Wharf Seamless Makeover®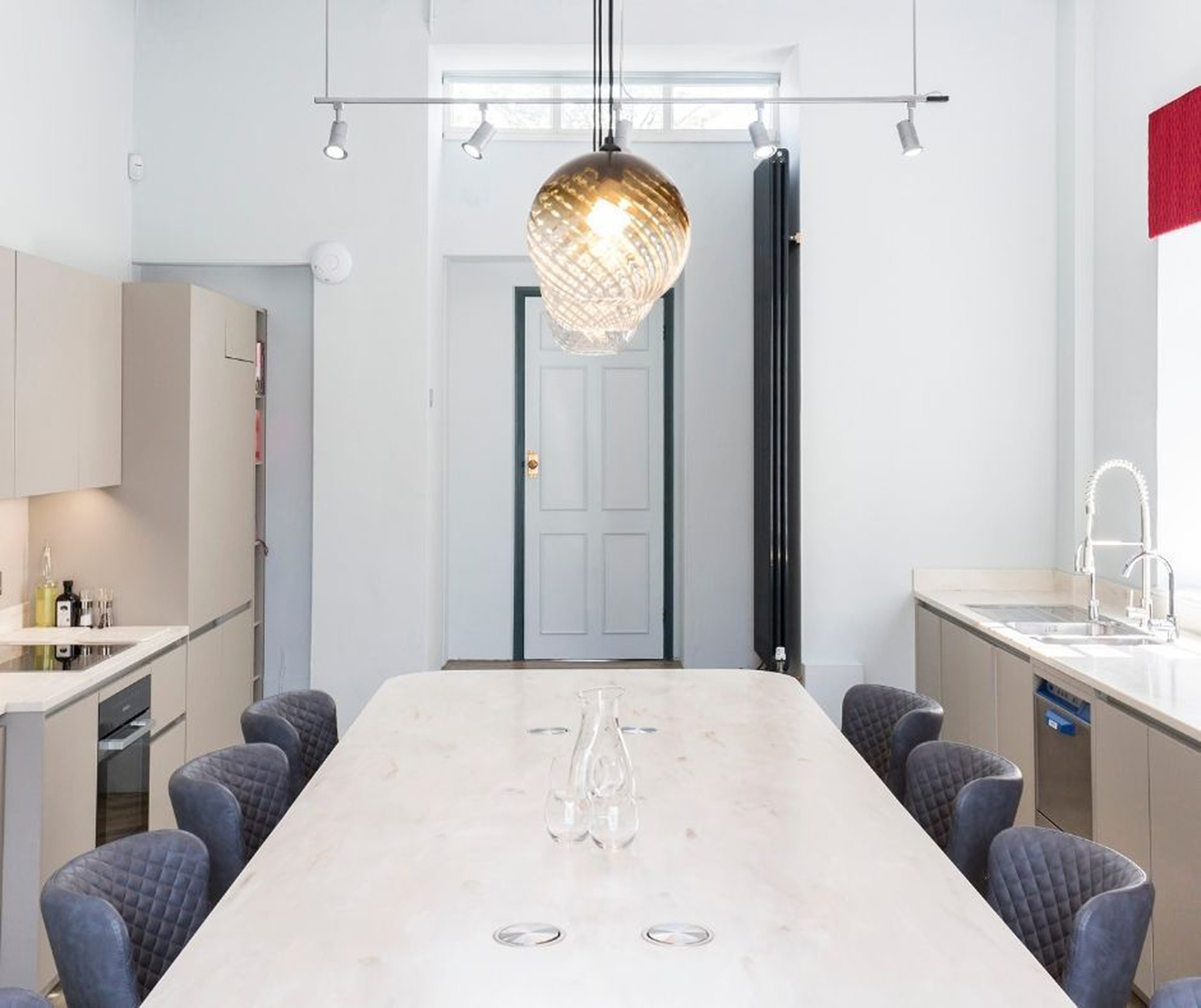 Solid Surfaces for the here & now…
One of the UK's leading manufacturers of solid surface products, Wharf Worktops, lead the way with its exclusive range of seamless acrylic overlay worktops and unique end to end customer-centric practices.
Combining its patent-pending strengthening technology with its own brand of made-to-measure solid surface worktops, Wharf is able to deliver an efficient turnaround so you can experience a new-look kitchen in no time and answer the UK's busy multi-faceted lifestyles in the 2020s! 
A huge trend for the 2020s and 2030s is optimisation, as the home becomes the ultimate vehicle for self-expression and a container for all aspects of work, life and play. This means that the importance of the kitchen as a hyper-functional living area is constantly evolving with a rising demand for smooth, hygienic, food-safe and water-tight surfaces to make light work of cleaning and ensure a germ-free environment for the whole household: including our visitors and family pets.
Rob Bullen, Managing Director, Wharf Worktops says, "Having a kitchen which is uniquely tailored to your family's requirements is becoming increasingly important in every household. We are therefore very pleased that we can help customers refresh their kitchen in a speedy, efficient and eco-friendly way with a high performance surface that is precision engineered to fit over your existing worktops with no seams or joins. Customer service and rigorous quality control are at the heart of our business from the moment that an accredited Wharf designer talks your through the options available to installation day when our specialist team members will ensure that fitting goes smoothly and so you can have a kitchen refresh without the upheaval and inconvenience of a major renovation project."
So, how do you get your very own Seamless Makeover®? With a network of suppliers nationwide, your first step is to head to the Wharf website to find your nearest stockist so you can see and feel the quality of the product in a reputable showroom and explore the range of 35 contemporary colours available from on-trend neutrals to vibrant hues to match your décor. The colour and textured effects run right through the surface so you will have a smooth and attractive finish on end units and island units. Once you've chosen the appropriate colour, it's time to make an appointment for one of Wharf's qualified experts to digitally measure the dimensions of your existing worktops at home so that the sleek 12mm thick Seamless Makeover® will fit like a second skin.
The measurements are sent straight to the technical design team so that they can use specialist software to create your new worktops with ergonomic features such as sink drainer grooves, as well as custom-made surfaces to make-over tired splashbacks, upstands and even window sills. As soon as the plans are finalised your local Wharf specialist will be in touch to talk them through with you and ensure you are happy, then your worktops will be made to order within the next 12 working days.
Once complete, Wharf will arrange an appointment for your new worktops to be fitted in under a day so you'll be able to enjoy your new and improved kitchen with minimal disruption to family life and your daily routine. After an expert fitting with full protection for your kitchen units and appliances, your new worktops will be fully secured over your original surfaces so no trace will be visible and there's also no waste to go to landfill. Rest assured that your Wharf worktops will be covered by a 10-year warranty and going forwards, no expensive aftercare, re-sealing, treatments or maintenance is required, just give them a wipe with a damp cloth and a gentle cleaning product to keep them looking great.
Rob adds, "We believe in investing in leading–edge technology so that we can create the best-in-class products for today's kitchens and deliver them to you as quickly as possible without compromising on our high standards. Every single order is quality checked before being sent to production in our purpose-built factory and our installation experts will take the utmost care of your kitchen during the fitting process.  Attention to detail, quality control and proactive product development to meet and surpass homeowners' expectations are the cornerstones of our business."
With a growing network of retailers at premium showrooms nationwide, Wharf Worktops is expanding its UK presence due to rising demand for kitchen makeovers which are eco-efficient, quick and value for money as every worktops comes with a warranty lasting a decade for added peace of mind.
If you would like to transform your kitchen with Seamless Makeover® worktops, you can find your nearest retailer here or contact Wharf Worktops and start the conversation. 
For further information please call 01730 812 822 or visit www.wharfsolidsurface.co.uk
Wharf Worktops, pride itself on providing extensive practical training and support alongside a 10-year warranty so you can sell, fabricate and fit with confidence, with the company on hand to walk you through any queries from initial consultation right through to final install. From supplying worktop samples and drawings to using the latest digital technology for taking precise measurements on site, your customer can decide on the length and depth required and once approved, the order is ready in 10 to 12 working days for delivery and final install by a Wharf approved fitter.
– Ingeniously designed solid surface overlay on top of existing worktops
– Digital technology used throughout to enable a precision fit
– Simple order and installation process
– Custom design solution
– Environmentally-friendly
– 100% waterproof and hygienic
– Hassle-free, convenient kitchen makeover
– Preserve existing cabinets, doors & appliances
– New co-ordinating seamless sinks and basins also available
– Prices start from £135 per square metre