The Bronze Age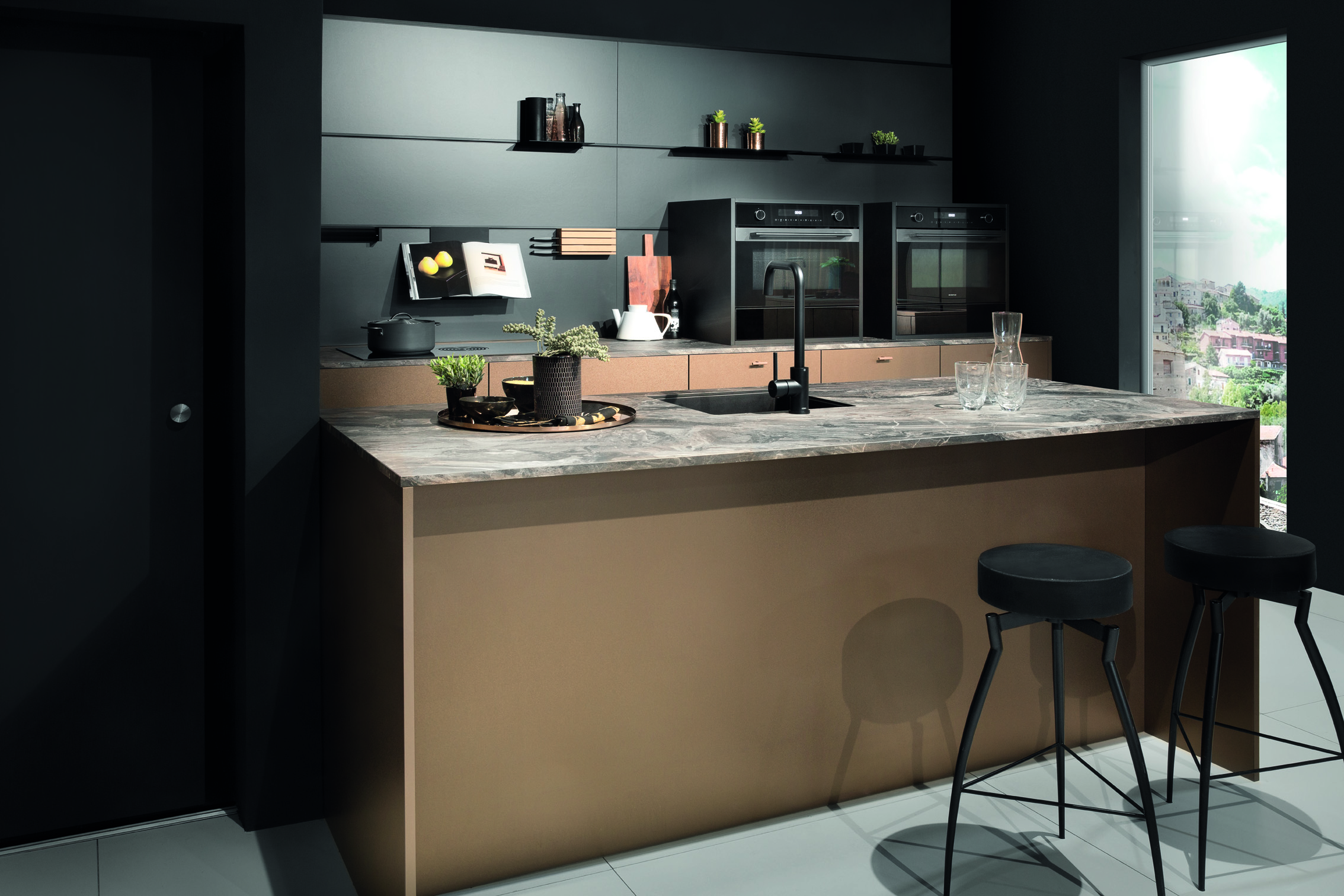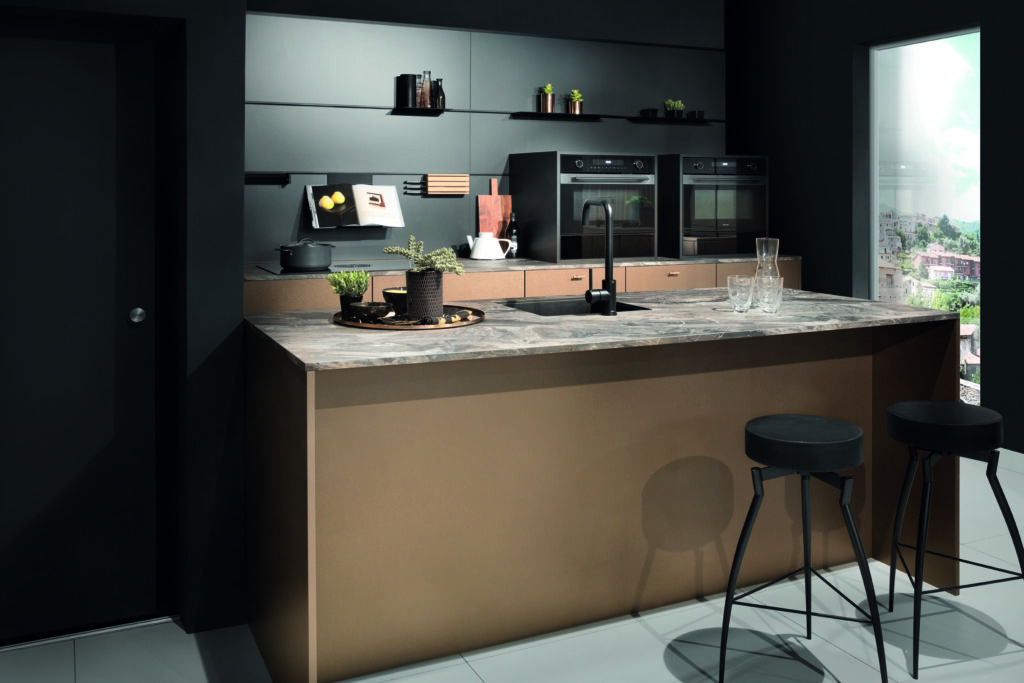 New for 2020 – Bronze Metal with Mini T-Bar colour match handle, Bronze 487: Titanium KQ furniture shown
New Bronze Metal by Rotpunkt
Leaders in the design and manufacture of quality carbon-free produced German Kitchen furniture embrace 'The Bronze Age' where metal replaced stone, with the launch of Bronze Metal:
– New door colour with brushed metal-effect surface: laminate solution for Titanium KQ furniture by Rotpunkt
Matt Phillips, Head of UK Operations at Rotpunkt says "Metallic finishes with practical application in the kitchen are evolving quickly, so it makes sense to introduce them in to a kitchen living environment and create more design opportunities and capacity for innovation. Bringing a refined, more luxurious approach to industrial-style kitchen design, our new Bronze Metal door colour is low-maintenance, extremely tactile and manufactured carbon neutrally."
Blazoned across the Titanium kitchen furniture range by Rotpunkt, the new Bronze Metal laminate solution reflects light extremely well thanks to its smooth shiny surface, as well as highlight the new 91cm and 234cm heights as Rotpunkt continues to extend its colour options for its most popular door ranges. The offset island unit with bar style seating and matching end panels is minimalist by design and creates a discreet dining area without impacting on the 'working' area of the kitchen.
Designed to bridge the gap between kitchen and living areas, the run of Bronze Metal base units and custom full-height cabinets with integrated sideboard complete the look to create one unified interior solution. You can also colour match your handles in the new bronze finish to ensure an ultra-modern kitchen aesthetic that is highly expressive: also available in Carbon and Brass. These new colours allow for increased personalisation so that you can colour match to the furniture, or create contrast with an accent colour. The brand new handle 487 is seen here pictured in the same bronze finish in the style of a mini T-bar with fine textured knurling.
Rotpunkt's dynamic approach to modular kitchen design is demonstrated across several elements of this concept design like the new G91 base units and T34 wall units in taller heights, new Cubes built-in appliance storage solution and new wall-panelling system with custom accessories. The Wall Panels are 19mm thick and are available in all cabinet colours and a host of door colours for the height of design uniformity and individualism. Each panel offers a 390mm space between the rails to ensure the design aspect naturally blends in with standard door sizes by Rotpunkt: can be applied as single full height panel or personalised arrangement made-up of multiple panels.

The new Bronze Metal kitchen concept by Rotpunkt (as pictured) features:
– Titanium KQ furniture – new colour option Bronze Metal: laminate
– Tall units in Bronze Metal with new 234cm high, one-piece full height door (handleless)
– Base units in Bronze Metal with new 91cm high dimensions, mini T-bar handle 487 in Bronze: Including wooden cutlery tray with internal drawer and two internal pan drawers
– Cube x2: shown with two appliances – custom housing, deck mounted variant in Black
– Wall-panelling storage system & solutions: 2mm Metal Black Aluminium Shelves x3, Tablet Holder x1, Foil Dispenser x1 & Knife Block x1
– Worktop: TopMatch Simacore worktop in Orobico, 20mm thick
– Sink: SP13 in Black