Take Control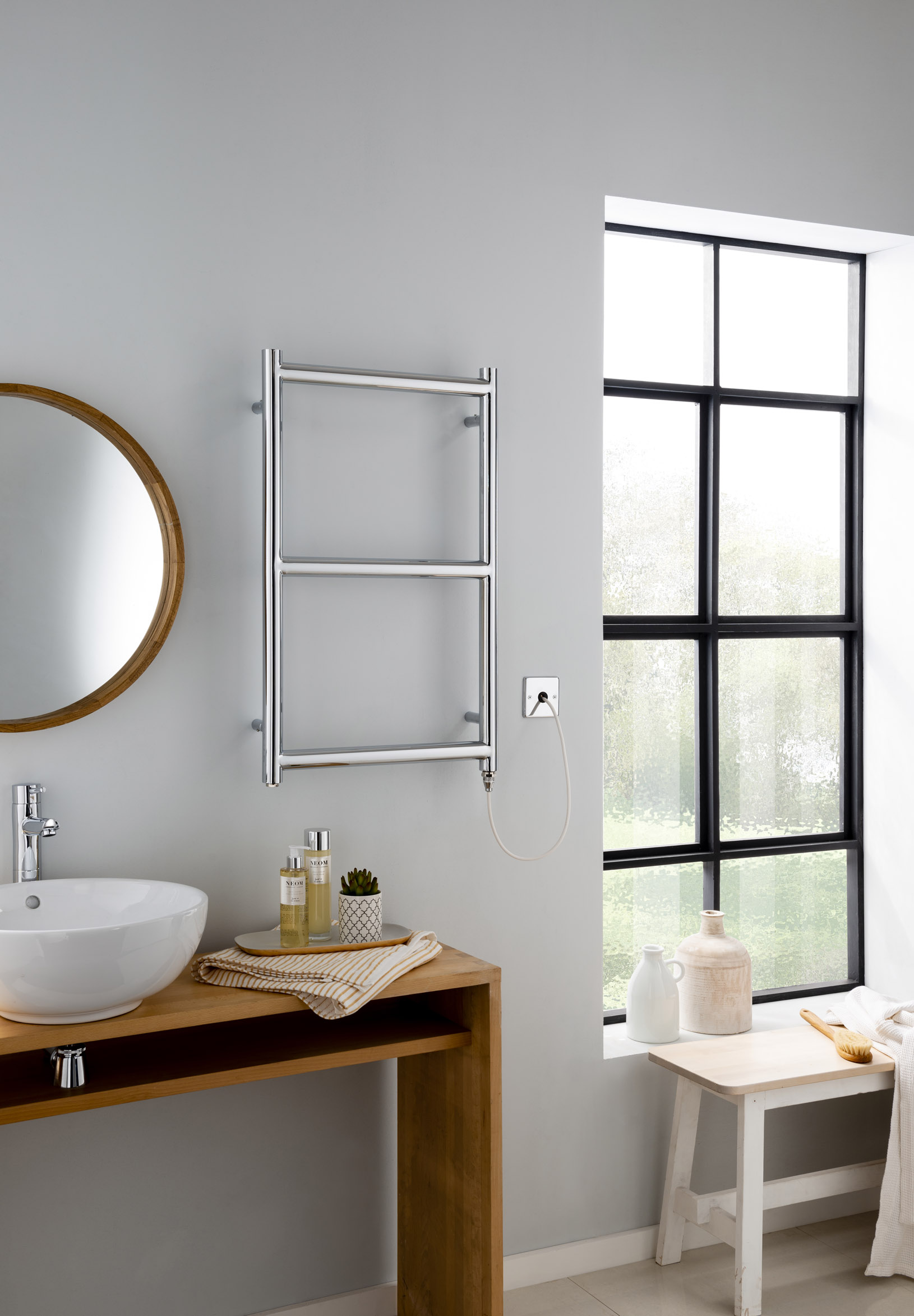 Electric heating design by Vogue (UK)    
The UK's largest manufacturer of award-winning radiator and towel warmer designs, Vogue (UK), puts you in control with its range of electric-only heating designs, which are high quality, stylish, energy efficient and easy to install.
Steve Birch, Sales Director at Vogue (UK) explains "Meeting the demand for ease and efficiency in the modern bathroom, our range of electric heating solutions are designed to work as a completely independent unit to the home's heating system. Requiring only a fused spur electric connection, each one of our electric models can also be supplied with a 7-day Digital Timer so that you can pre-set for optimum control and improved efficiency."
For the height of convenience, Vogue (UK) also offer a Remote Controlled Heat Element for its range of electric heating solutions. Designed with negative temperature coefficient technology, 7 day programmable element and Eco, Boost and Safety lock features, this small yet mighty electrical component gives total flexibility to the end user, as and when required.
Even though the heating market tends to be thought of during the autumn and winter months, Vogue (UK) believe an electric towel warmer is a valuable addition in the bathroom, all year round. Providing a dedicated space to warm and dry your towels, electric towel rails can be installed quickly and easily by avoiding the need for additional plumbing and pipework. Extremely low-maintenance, opting for electric-only heating means you are not subject to annual servicing, so you can feel confident if something goes wrong, you won't have to trace and fix any leaks inside of your bathroom walls!
The Electric Collection by Vogue (UK) offers a range of independent heating designs that only require a fused spur electric connection. Thermal transfer fluid is heated by an electric element within the towel rail or alternatively, Electric Dryline technology is available across select models by Vogue (UK). Defined by the absence of fluids, Dryline allows the towel warmer to be heated by a silicone heater cable, which is then later attached to a fuse spur.
If you require more flexibility, then Vogue (UK) also offers a range of dual fuel options which have the capability to run from a central heating circuit or an electric element: handy in the summer months when the central heating is turned off!
Are you looking for a high quality, electric heating solution for your bathroom? Here's what Vogue (UK) recommend:
1. Grace Electric MD067: a contemporary ladder rail, designed with large diameter Mild Steel tubing. Understated by design, this electric towel warmer is wall-mounted to optimise floor space and provide ample hanging space to warm and dry your towels. Finished in popular Chrome, its slim width allows Grace to be positioned close to the wash basin for added convenience and overall balance in design.
2. Serene Electric MD049: designed for lovers of industrial-style home interiors, this minimalist electric towel warmer is defined by its heavyset square tubing and multi-rail layout. Manufactured from high quality Mild Steel, Serene with its clean structured lines and systematic design is emphasised by a high shine Polished Chrome finish: a popular choice in the bathroom.
3. Ballerina Electric LG010A-MS: more traditional in look, this period-style towel warmer is a nod to yesteryear with its Legacy ball joints and wall mounted decorative fixings. Rich in character and made from top-quality Mild Steel, Ballerina is an electric heating solution that combines the markets love of old school design combined with classic British style.
4. Focus Electric MD001: recognised as a flagship model by Vogue (UK). Versatile and beautifully designed, the MD001 features capped off ends that conceal a hidden air vent for ultra-smooth finish. Adjustable brackets through the crossbars are designed to offer ease of installation and the multiple rail options available for Focus make it a modern example of proficient design.
For a complete look at The Electric Collection by Vogue (UK), visit www.vogueuk.co.uk/index.php/electric
Celebrating 30 years in 2020, please contact Vogue (UK) for further information:
Vogue (UK) | t 01902 387 000 | e info@vogueuk.co.uk | w www.vogueuk.co.uk