Spring Interiors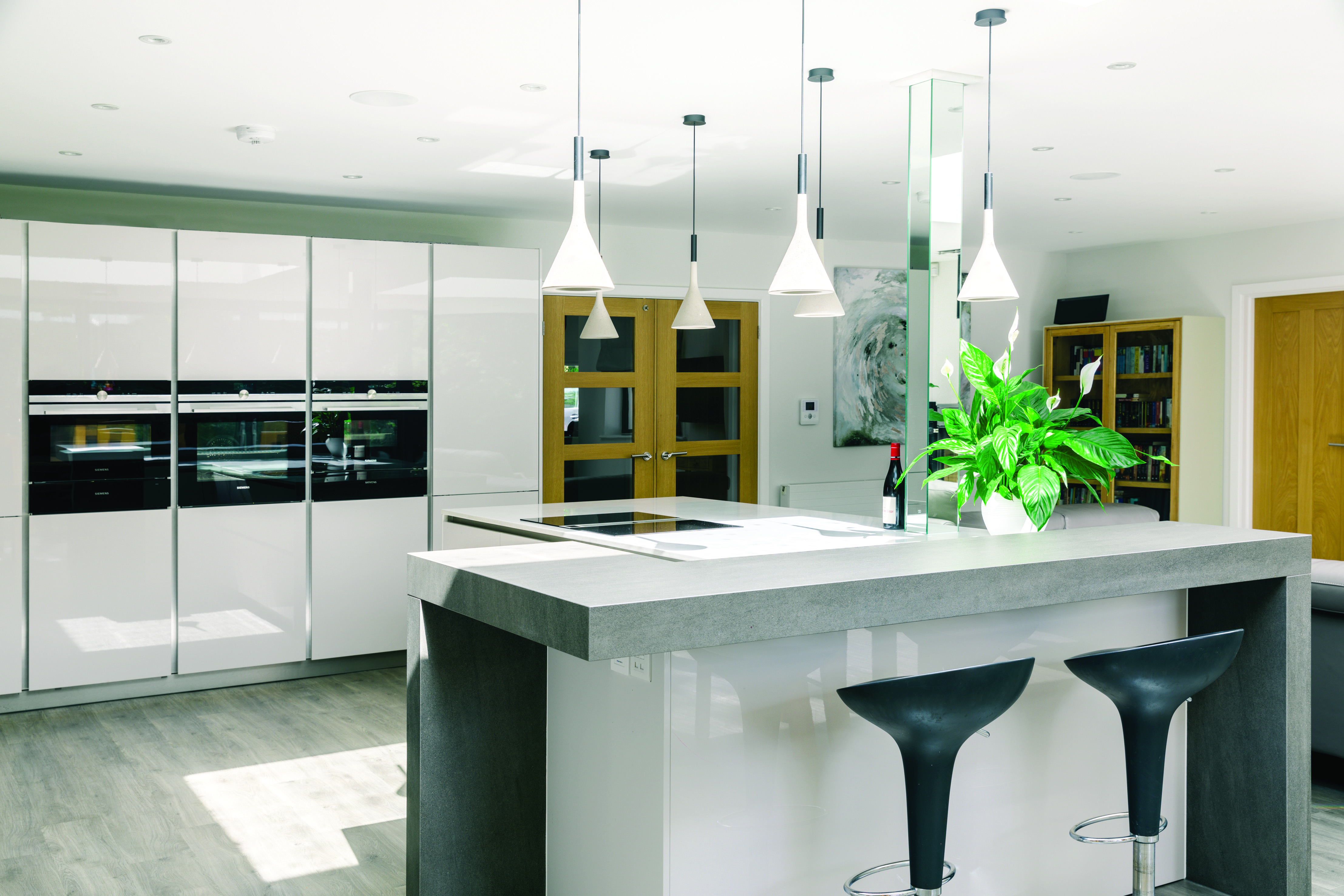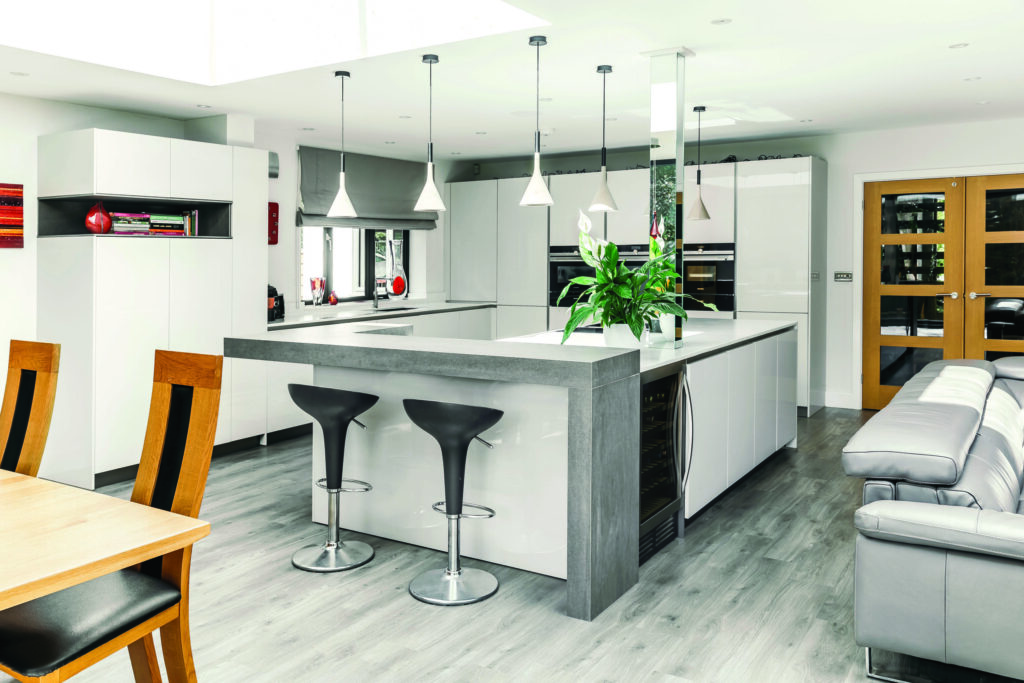 'Light & Bright' timeless white kitchen
Brandt Design, specialists in the design and installation of contemporary lifestyle furniture inspire the feelings of springtime with this light and bright, contemporary white kitchen for a detached family home in rural Hertfordshire: www.brandtdesign.co.uk/light-and-bright 
Offering a modern take on the timeless white kitchen, this new-build project was designed as one complete open plan scheme, which needed to cater to all home-disciplines: cooking, dining, relaxing and socialising. It was therefore essential to ensure the space is ergonomically designed to create a clutter-free, well organised kitchen living space, where each area is strategically zoned through custom-built handleless furniture and series of integrated appliances. 
The hero feature in the main kitchen area is an industrial style l-shaped island unit, which has been cleverly designed to encompass a generous hob and create ample food preparation space on the 20mm Platinum White Quartz worktop fabricated by Brandt Design. 
Crisp white kitchen units in high-gloss white lacquer pose the perfect contrast against the grey oak flooring and Neolith Basalt Grey Satin breakfast bar. Thoughtful space planning led to Brandt Design positioning the high-rise bar stools in close proximity to the dining area so the architectural breakfast bar with distinct mitre joints can service the kitchen, as well as function as overflow-seating when entertaining. 
The l-shaped island is grounded by a highly reflective supporting pillar that is clad in mirrored glass from worktop-to-ceiling and this creates a lovely focal point in the room. Ultra-modern pendant lights sit overhead, to ensure the worktop space always has the right level of task lighting, subject to mood and/or occasion. Beneath, Brandt Design include an integrated wine cabinet and position it directly opposite the living room area for easy access and a heightened sense of luxury when relaxing at home or entertaining guests. 
Bathed in natural light, the high-gloss white kitchen cabinets create an abundance of storage space and being discreet and handleless in design, the furniture never feels excessive or visually overbearing. This run of cabinetry makes way for a tall bank of cooking appliances and fridge freezer, to the left beneath the sink and tap area, base units cleverly conceal extra utilities including a practical dishwasher and washing machine. Maximising every inch of available storage space, custom floor-to-ceiling storage units keep the kitchen well-organised and the worksurfaces free from clutter: essential when living open plan. 
Designed and fitted by Brandt Design, this project embraces the homeowners love of clean lines, modern art and unique design features. Scott Davis, Director at Brandt Design says "Creating this kitchen for a new-build ground floor, meant we could design a full open plan arrangement that brings three separate areas of the home – kitchen, dining and living – into one inclusive space. Principally, our aim was to create a user-friendly, ergonomic kitchen living space that captures the homeowner's personal style, home architecture and social lifestyle." 
This modern, timeless kitchen scheme includes:
Furniture: Brandt Design high-gloss, White lacquer
Worktops: 20mm Platinum White Quartz from the Brandt Collection by Brandt Design
Breakfast bar: Neolith Basalt Grey Satin
Built-in Appliances:
– Siemens HB676GBS6B Built-in iQ700 Single Oven, ActiveClean, Stainless Steel
– Siemens CM676GBS6B Built-in iQ700 Compact45 Oven with Microwave, Stainless Steel
– Siemens CD634GBS1B Built-in iQ700 Compact45 Steam Oven, Stainless Steel
– Siemens BI630CNS1B Built-in iQ700 Warming Drawer 14cm High, Stainless Steel [two]
– Siemens SN66L080GB Built-in iQ300 60cm Fully Integrated Dishwasher, Stainless Steel
– Siemens KI81RVS30G Built-in iQ300 177 x 54cm Fridge
– Siemens GI81NAE30G Built-in iQ300 177 x 54cm NoFrost Freezer
– Siemens Fridge freezer
– Bora CFI11 BoraClassic surface induction cooktop [two]
– Bora CKAS Bora Classic cooktop extractor system
– Bora CKAAB0 Bora 1 piece cover plate, Stainless steel
– Caple WI6120 Undercounter Wine Cabinet 595mm, Stainless Steel Door
Sinks & Taps:
– Blanco BL452916 Undermount Subline 700-U, 1 Bowl Sink, Universal Rock Grey
– Blanco 3FSCHR Pro 3 Fusion Square Taps, Chrome
For further information on Brandt Design, please contact: Hatch End 0203 7584455 | Hampstead 0208 1947888 | www.brandtdesign.co.uk | e [email protected]Hatch End Showroom: 431, The Broadway, Uxbridge Road, Pinner, Herts HA5 4JRHampstead Showroom: 489, Finchley Road, West Hampstead, London NW3 6HS