Silk Beige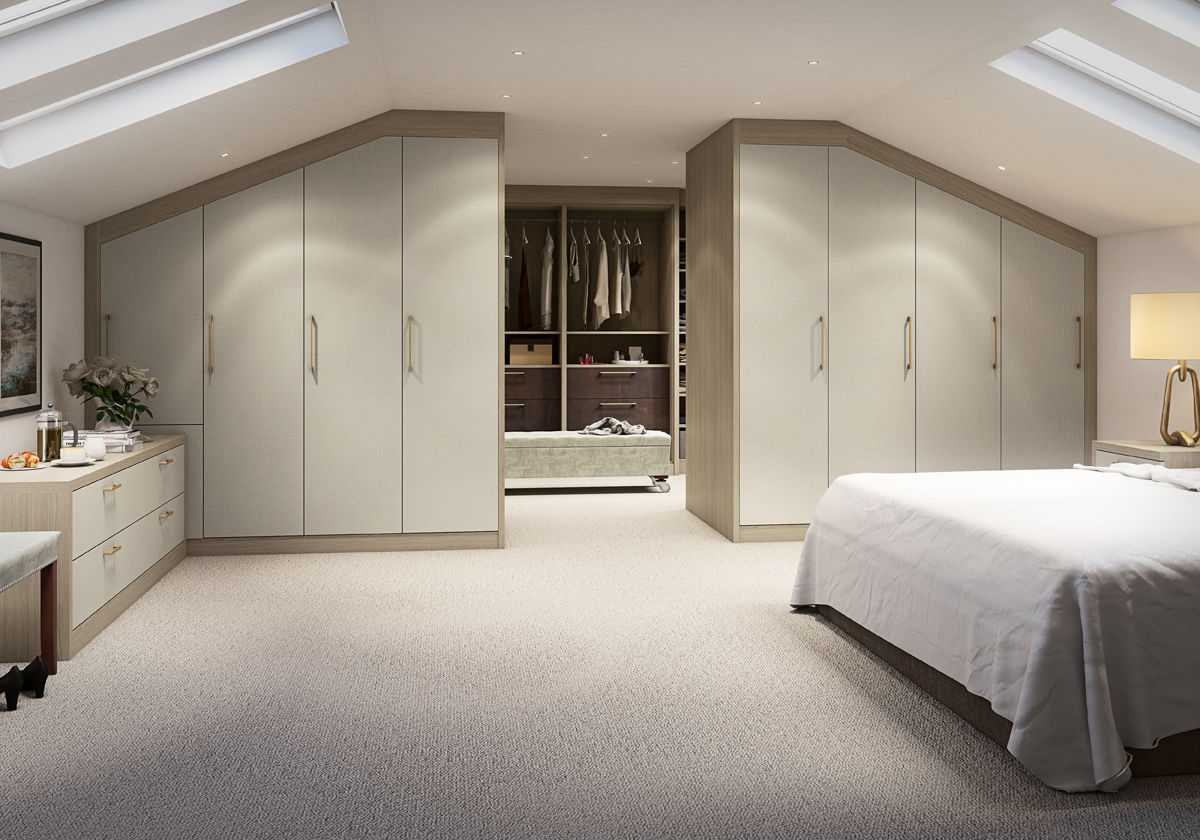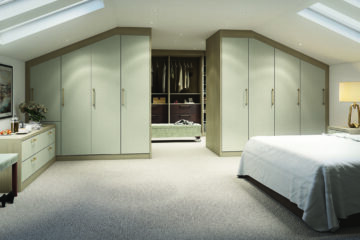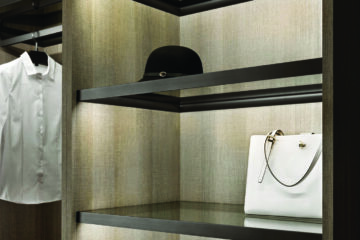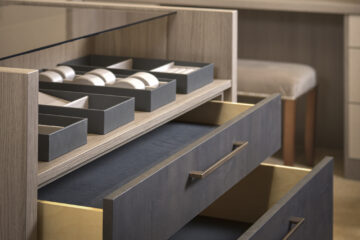 New Langham Bedroom by Daval Furniture 
Leaders Leading British designer and manufacturer of quality fitted furniture, Daval, epitomise style and sophistication with the launch of its latest bedroom collection, Langham: a highly tactile, linen-effect furniture range in two textured finishes – Silk Beige & Silk Grey.
Defined by the markets enduring love of mixed materials, the new Langham made-to-order furniture collection will create high contrast when paired with rich materials like the natural Smoked Oak interiors and feature Mayfair drawers in new Bronze, a super matt metallic finish.
"Having the luxury of a dual bedroom space has become a must-have addition for the modern home, bringing a greater sense of well-being and organised luxury to the bedroom. Able to serve multiple needs from one space, a dual bedroom scheme will work to serve you; much like our new Langham bedroom concept that combines a full bedroom suite, custom walk-in wardrobe and private dressing room area" says Simon Bodsworth, Managing Director at Daval. 
"Incorporating dynamic materials and deluxe tactile finishes also work to enhance the comfort level of this bedroom, providing key areas of intrigue throughout the space and identifying different functional areas. Practically configured for the modern lifestyle, our new Langham furniture and supporting storage solutions and accessories make dual bedroom design a straightforward proposition for anyone wanting a high-performance, custom-made furniture solution that emotes luxury" says Simon. 
The new Langham linen-effect furniture is seen pictured in Silk Beige by Daval, across a double set of full height under-eaves fitted wardrobes. Designed to maximise the available storage space in this loft-style bedroom, the Silk Beige finish provides a contemporary backdrop that is practical and beautifully tactile: you can even colour-match the cabinets to avoid additional cladding on the end panels. The contemporary brass bar handles provide the perfect finishing touch and become an ideal accent to the fair-coloured wardrobe doors, chest of drawers and beside cabinets.
The walk-in dressing room makes way for a series of low-level Mayfair drawers, which introduce the brand new Bronze finish by Daval: a metallic super matt finish that delivers a modern, urban feel with authentic natural patina. A natural Smoked Oak interior complements the rich exterior perfectly and provides a pure foundation for the new specialist wardrobe system also by Daval. Unique by design, this ultra-chic shelving system features new Lead Grey shelving with Smoked Glass inserts: other custom accessories and storage solutions also available.
Step 1. STYLE: Whether contemporary, traditional or a mix of each style, think how this will influence space planning. For instance, if you're working with a compact space then opt for an open contemporary style as this will organise and display everything from 'every day to occasional' and not overshadow the space. Should you have the luxury of lots of space, then I recommend a clever balance of materials and textures to add warmth and character to your dressing room and soften the large expanse of furniture and door fronts.
Step 2. STORAGE: You now need to decide how you wish to use the space and what it will be storing? The bathroom cleverly takes a 'his and her' approach to interior design which caters to the individual and I suggest using this principle in the bedroom. For him, think about storage designed to organise belts, ties and cufflinks, as well as a half-height clothes rail at the top and midway for shirts, jackets and trousers. For her, opt for a full height clothes rails to look after those long dresses, along with display shoe storage or an integral vanity unit with mirror and strategically placed lighting for optimum illumination.
Step 3. DESIGN: Maximise every inch of space and consider full-height furniture solutions that are designed to fit the room from floor to ceiling and/or spans the length and breadth of the room. Daval has a cast-iron commitment to delivering designs without compromise and its exclusive 'Option-i' technology means it can create made-to-measure bedroom furniture with the utmost of ease. With absolutely no large infill panels or top boxes over the wardrobe, you can avoid unnecessary costs and never compromise on available closet space: perfect if working with a loft space, sloping ceilings or awkward layout.
For further information please contact Daval Furniture:
t 01484 848 500 │ e enquiries@daval-furniture.co.uk | w www.daval-furniture.co.uk │ Daval
House, Spa Fields Industrial Estate, New Street, Slaithwaite, Huddersfield, HD7 5BB