Seamless worktops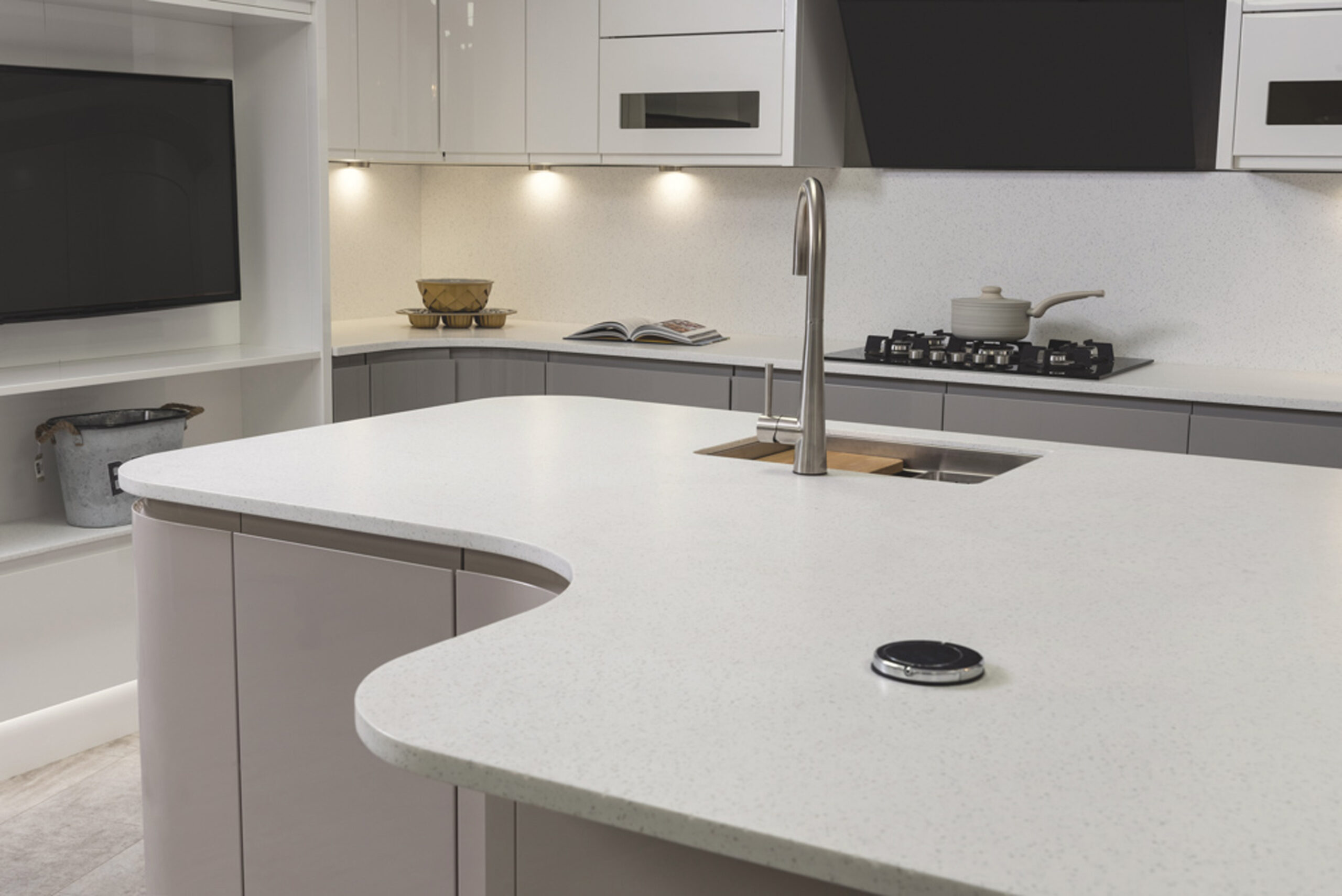 Beneath the surface with Wharf Worktops
Wharf Worktops, one of the UK's leading independent manufacturers of seamless solid surfaces are constantly investing in the future, as more customers up and down the country enjoy the benefits of its exclusive range of surface solutions. With a focus on providing an exceptional customer experience, Wharf is reshaping the markets approach to worktop design, innovation and installation.
In fact, worktops have taken centre-stage in the home over the past 12 months with growing demand for easy-clean, hygienic surfaces in light of the ongoing pandemic. With increased time spent at home and a need for multi-purpose living spaces that are sensitive to both home and user, the worktop has become a critical component of kitchen design and is influencing the decision process. Multiple factors like style, colour, material, innovative features, extreme cleanliness and of course budget are all considered.
First established over 25 years ago, Wharf Worktops was originated by specialist cabinet maker, Trevor Baker, who, driven by a desire to offer the best standards in design, quality and innovation took an original outlook to solid surface manufacture and customer service. As of today, the company has perfected the art of producing very high quality seamless solid surface worktops delivered in a professional, customer friendly style. In 2019, Wharf took solid surface a step, or should we say a leap further by introducing Wharf Seamless Makeover, a patent pending innovation which enables them to exclusively offer a solid surface overlay product to the UK market. Their beautiful Seamless Makeover worktops fit perfectly over existing surfaces, providing a hassle-free way to renovate any space.
Wharf Worktops independent approach to solid surface application and seamless worktop innovation has created new opportunities for the kitchen and bathroom, with two elite product ranges that can be tailored to individual needs and overcome potential design hurdles being bespoke in nature.
For a beautiful and contemporary solution, Wharf create designer worktops, island units and breakfast bar areas. Decide on what length and depth you need and your worktop will be custom-made to fit your kitchen dimensions, following the angles and curves of existing cabinetry.
– Solid surface seamless worktop
– Beautiful colour choices
– Hygienic & low maintenance
– Luxury look and feel retained over the product lifetime
– End to end digital process combined with outstanding craftsmanship
– Cost effective
– A host of features with variable depths
– Bespoke solution
Rob Bullen, Managing Director, Wharf Worktops says, "The ultimate in bespoke surface solutions, Wharf Seamless worktops give the appearance of one solid worktop making it ideal for luxurious renovations, premium new builds and 
everything in-between. Our designs of worktop, island unit, breakfast area, splashbacks and upstands have all been carefully created to provide smooth, imperceptible seams so your customers can enjoy seamless joints, which are far
more beautiful and hygienic too."
Unique in the UK and exclusively from Wharf using their own, patent pending technology, the Seamless Makeover® range of kitchen and bathroom worktops, is ingeniously designed and precision engineered to custom-fit over existing surfaces making for great impact without the hassle.
– Ingeniously designed solid surface overlay, which fits perfectly on top of existing worktops & surfaces
– Digital technology used throughout to enable a precision fit – Simple order and installation process
– Custom design solution, with a seamless moulded sink option
– 100% non-porous with seamless joins: ideal for food preparation and general hygiene standards
– Hassle-free, convenient kitchen makeover
– Environmentally-friendly – preserve existing cabinets, doors, sinks & appliances = zero landfill
"With the ability to refresh and update an existing kitchen quickly and easily, our Seamless Makeover® range is a green alternative for anyone who is happy with their existing layout but wants to elevate the overall look and feel of the space. Designed for the quick-fix makeover market, customers can benefit from a simple order and install process as our experts use the latest digital technology to ensure a precision-engineered fit so the new surface effortlessly lays on top of almost any existing surface."
"Responding to customer demand, we figured out how to offer a straightforward, hassle-free solid surface overlay top for the home improvement market, where you can leave existing cupboards, doors and appliances in place meaning the job can be installed in just one day with minimum disruption and zero waste!" says Rob.   
Seamless SupaPowa® Charging Technology ↓
Changing the way you recharge your smartphone and tablet in the kitchen, Wharf is proud to offer Seamless Charging Technology within its range of beautiful worktops. Using a SupaPowa® transmitter with Qi® technology seamlessly beneath a worktop, it offers a dedicated charge point for mobiles phones. The technology is safe, simple to use and energy efficient so you enjoy the convenience of being able to charge smart phones and small tablets without being tethered or having the hassle of finding a power point. Using inductive charging, the power passes between a transmitter and receiver coil placed closely together. Wharf Seamless Select® can inlay a contrasting disc of material to show the location of the charger, and the worktop also lights up when the device is charging!
"We are very proud of our unique seamless solid surfaces, which is why we are doing everything we can to expand and grow our network of UK installers on a national scale" says Rob.
For further information please call 01730 812 822 or visit www.wharfsolidsurface.co.uk