Restorative Bedrooms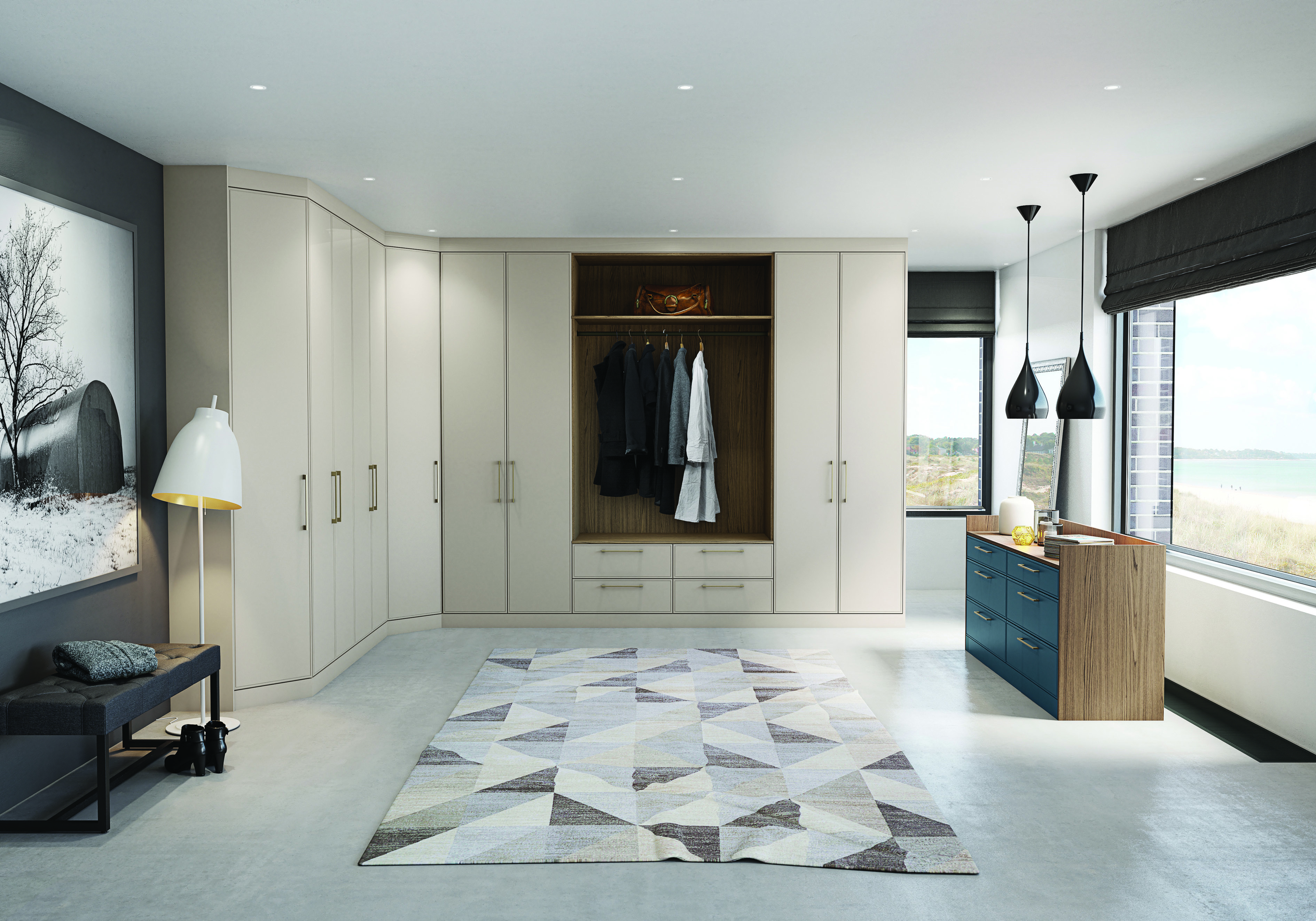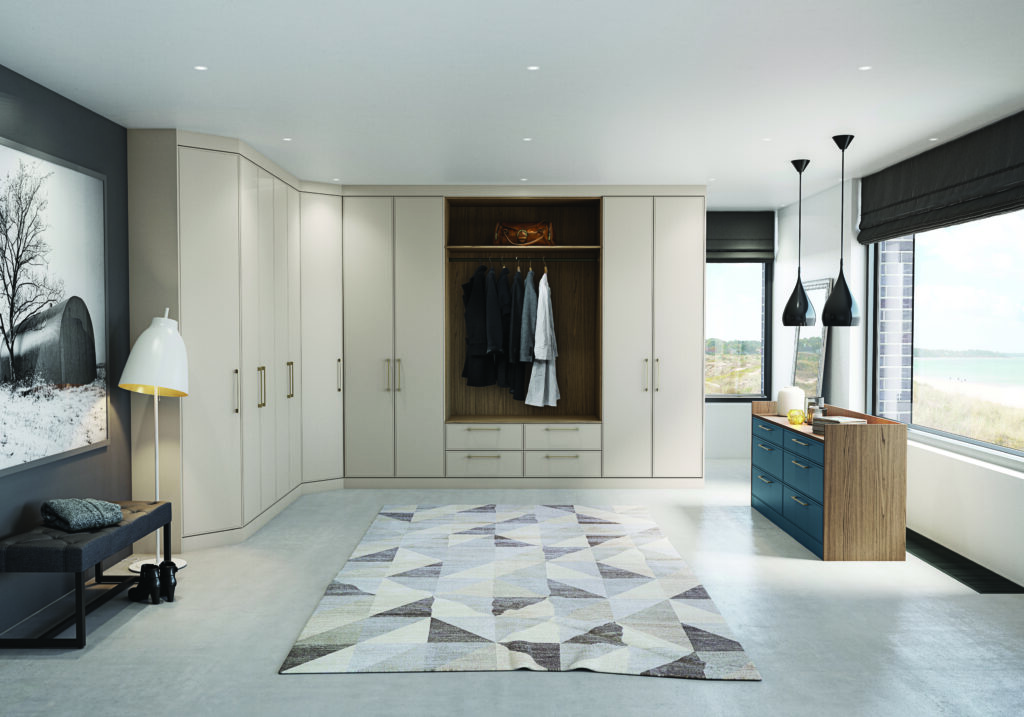 New thermo healing finishes by Daval
Award-winning British designer and manufacturer of quality fitted furniture, Daval, alleviate the pressures of modern life with the launch of four super matt foil finishes with thermo healing properties:
– Cobalt Blue | Talpa | Hunter Green | Portobello: Created using nanotechnology, each new finish includes thermo healing properties that when heat is applied, can restore superficial micro-scratches and abrasions
Ideal for modern day family homes where more wear and tear is inevitable, these new super matt foil finishes by Daval are suitable for both kitchens and bedrooms, just like the pictured Cobalt Blue and Portobello Soho bedroom concept above.
The new super matt Portobello finish is featured on a run of custom fitted wardrobes, which in this case are floor to ceiling and accommodate a 90 degree angle. By using a ceiling infill at the same height as your plinth, Daval make use of every inch of available storage space to create a look with true vertical symmetry.
The contemporary slab doors with in-frame effect make Soho the perfect foundation for this revolutionary colour option and the Portobello wardrobe arrangement is made-up of two single and four double units, low level drawers and a deep recess with Italian Walnut interior, integrated shelf and hanging rail for storing everyday coats, hats, bags and shoes.
The Soho chest of drawers to the right provides balance and is designed in matching Walnut with new Cobalt Blue super matt drawers. Creating a vibrant colour pairing against the dark wood and greyscale furniture, each drawer is finished with contemporary brass bar handles, which complement the industrial-style pendant lighting above and matching hardware on the wardrobe doors.
Simon Bodsworth, Managing Director at Daval Furniture says "High-performance furniture with innovative surface treatments are essential these days, especially given the extra pressures of modern day life. To introduce a new set of super matt foil finishes with thermoactive foundation is an opportunity for our customers to very easily extend the lifespan of their kitchen or bedroom furniture through the simple application of heat."
Soft to touch and highly resilient, this new mix of colours are designed to keep your home looking good for longer and the complete range of Foil Finishes by Daval include:
– New SUPER MATT: Talpa | Cobalt Blue | Hunter Green | Portobello
+ SUPER MATT: Cashmere | Charcoal | Dove Grey | Dust Grey | Frost White | Fjord
– FOIL: Alabaster | Cashmere | White
– NATURE FOIL: Cashmere | Dove Grey | Porcelain
The new range of super matt foil finishes by Daval are available now and the featured Soho Bedroom Furniture concept in new Cobalt Blue and Portobello finishes is priced from £6,500 +vat.
For further information, please contact:
Daval | t 01484 848 500 │ e [email protected] | w daval-furniture.co.uk 
Address: Daval House, Spa Fields Industrial Estate, New Street, Slaithwaite, Huddersfield HD7 5BB