Project: Social Spaces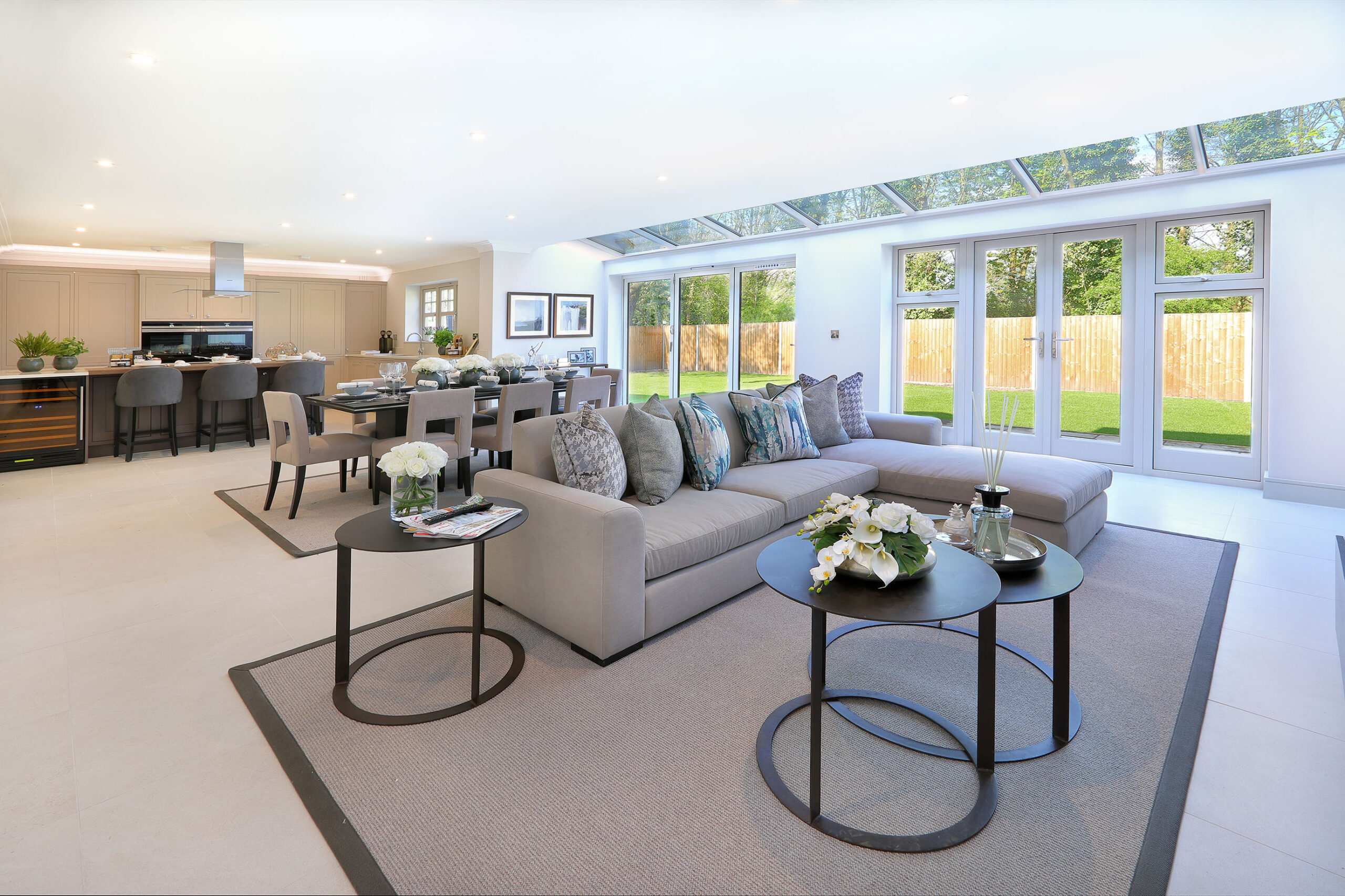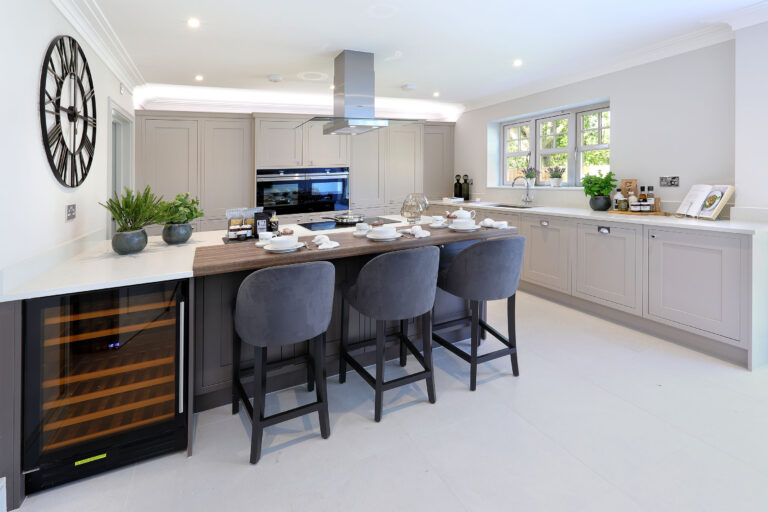 Daval Bramham Furniture #project
Daval, award-winning British designer and manufacturer of quality fitted furniture is proud to present its iconic Bramham oak in-frame kitchen furniture in two contemporary colours: neutral Cashmere alongside a deep greige shade of Truffle.
These kitchens were expertly designed by family-run trade specialist, Kitchen Connection of Ascot, for property developer Burwood Rumsby Homes. The design responds to the brief to create an open plan kitchen diner for a series of luxury homes in an exclusive private development. The concept needed to support modern family life with plenty of additional storage space to accommodate changing needs, highlighting the growing trend for blended living and future-focussed flexibility in kitchen design. With the emphasis on classic style with a contemporary twist, the solid wood Bramham Shaker in a warm toned modern greige painted finish ticked the boxes for an elegant design-rich solution rich in made-to-measure storage and traditional joinery techniques for a timeless feel.
Simon Bodsworth, Managing Director at Daval says, "We predict that new build developments will be a key part of plans to 'Build back better' post-pandemic and that demand for sustainable social kitchens will continue to grow in parallel. Our research indicates that they continue to add cachet to extra-special executive homes as end users at the top of the market become ever more discerning about the traceability and provenance of materials in furniture manufacture. Another bonus of the Shaker style is that it is so well-known and loved, that it will instantly add character, comfort and visual depth to a flexible space. The subtle styling of the Bramham door means it sits within the frame and has clean proportions giving it a current yet classic look for a highly desirable modern interpretation on a traditional kitchen."
This particular project makes excellent use of an L-shaped layout ideal for socialising with a back wall dedicated to storage and integrated Siemens appliances including a twin-oven. The floor-to-ceiling cabinets in Cashmere optimise the business end of the kitchen so that there is no need for freestanding storage solutions in the kitchen and living space, assisting in the creation of a low maintenance clutter-free, open and welcoming aesthetic. Under the kitchen window, the wet zone and food prep area are topped with surfaces in Beltrami Quartz worktops in Bianco Masa.
The high-function island unit in Truffle, bridges cooking and dining with a dedicated working area for the induction hob alongside ample storage for cookware and tableware. On the opposite side of the unit, there is room for three to sit in comfort and enjoy chilled drinks within easy reach from the built-in wine fridge. With the living and dining area in close proximity, it's easy to entertain at home and enjoy maximum use of the ground floor to facilitate family life.
Embracing the spirit of the practical Shaker kitchen, Bramham appeals to the senses with its elegant proportions and its defined central panels. Inspired by the beauty of the Edwardian kitchen, Bramham is cleverly updated for a modern aesthetic with thoughtful styling which is ideal for open-plan living and dining areas where a kitchen island is often very desirable.
Kitchen drawers need to be extremely robust throughout your kitchen's life span, which is why the Bramham benefits from a 3 way adjustment behind the Daval branded drawer cap. This gives the drawer extra strength and utility in comparison with a traditional dovetail joint. The oak drawers of the Bramham have a soft curve profile and large gallery rail which maximises the storage available inside the cabinet. Daval understands the importance of kitchen organization, so there's a wide range of complementary oak storage solutions which sit inside the drawers such as knife blocks, spice holders, stainless steel jars and dividing systems.
Bramham kitchens by Daval are made from the finest oak and are created to fit your exact specifications at the Daval factory in the heart of Yorkshire in an award-winning 2nd-generation family business. In addition, the chrome cup handles and matching knobs are also made in Birmingham, for a kitchen which is truly made in Britain.
Built from premium timber and precision engineered by furniture experts in Britain, the Bramham Furniture Collection by Daval is made-to-order and made-to-measure. Prices start from £10,000+vat.
For further information, please contact Daval Furniture:
Daval Furniture | T 01484 848500 | www.daval-furniture.co.uk | Daval House, Spa Fields Industrial Estate, New Street, Slaithwaite, Huddersfield, HD7 5BB
Note to editor – Retailer: Kitchen Connection of Ascot is a kitchen and fitted furniture specialists, serving trade and private clients throughout the South of England. The family-run business was established in 1993 with a mission to offer its clients so much more than expected in terms of design, service, quality and value. Based in Winkfield, Berkshire, this family business is proud to partner with Daval, and commends its commitment to innovation as well as it uniquely personal designs. Call 01344 883 777, email [email protected] or visit www.k-c-a.co.uk