Oak Line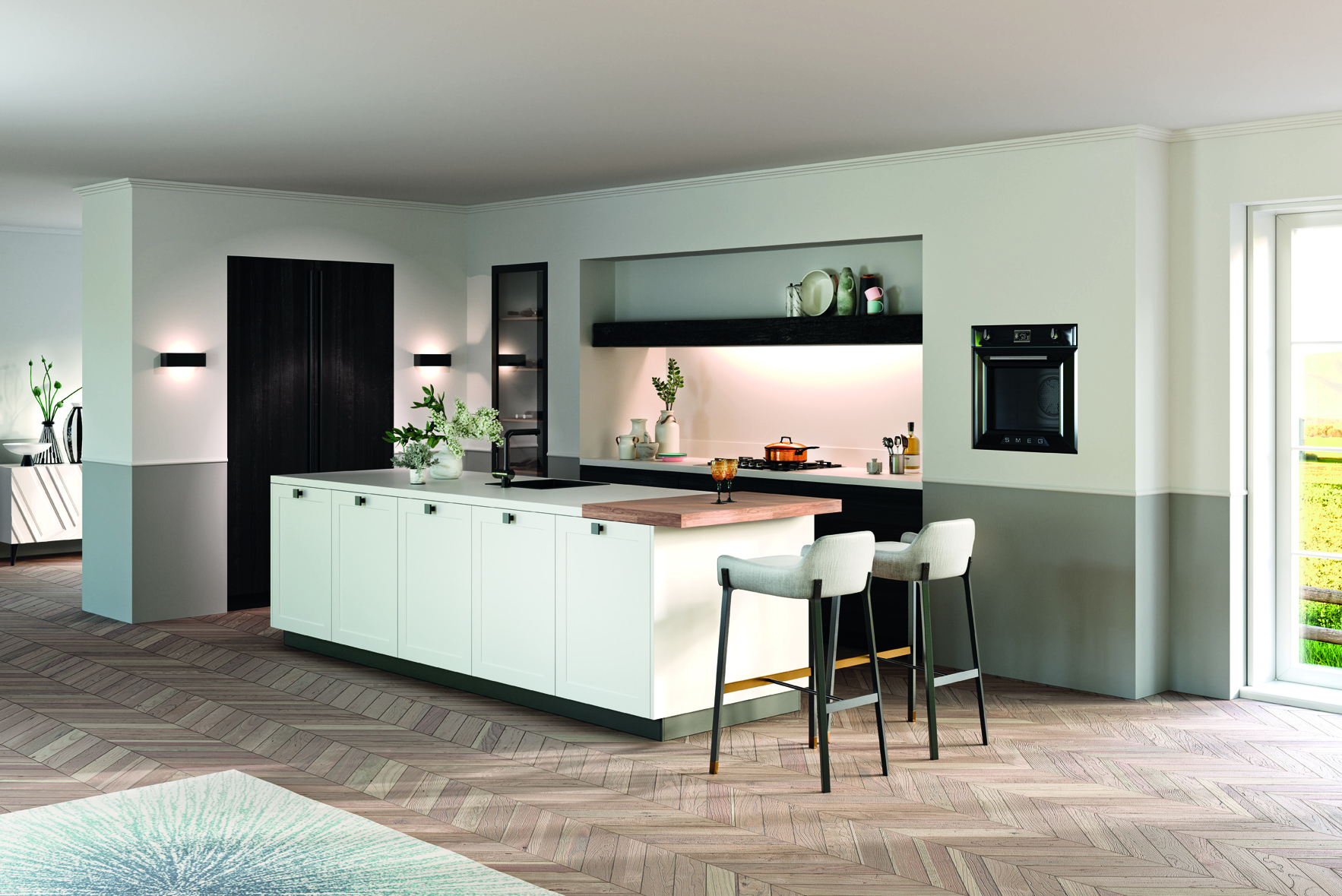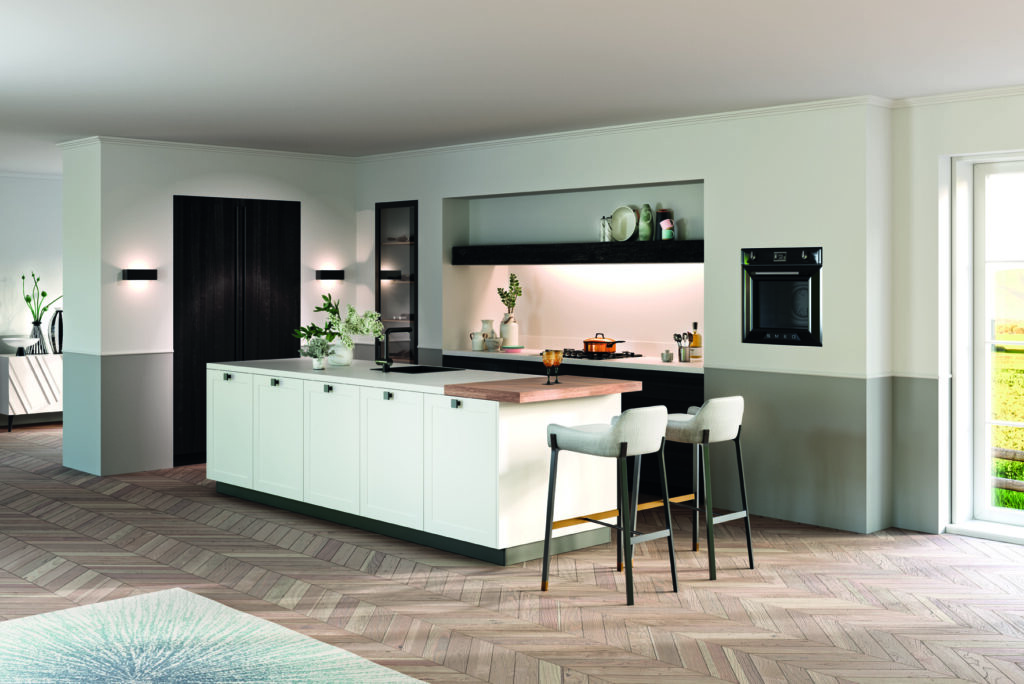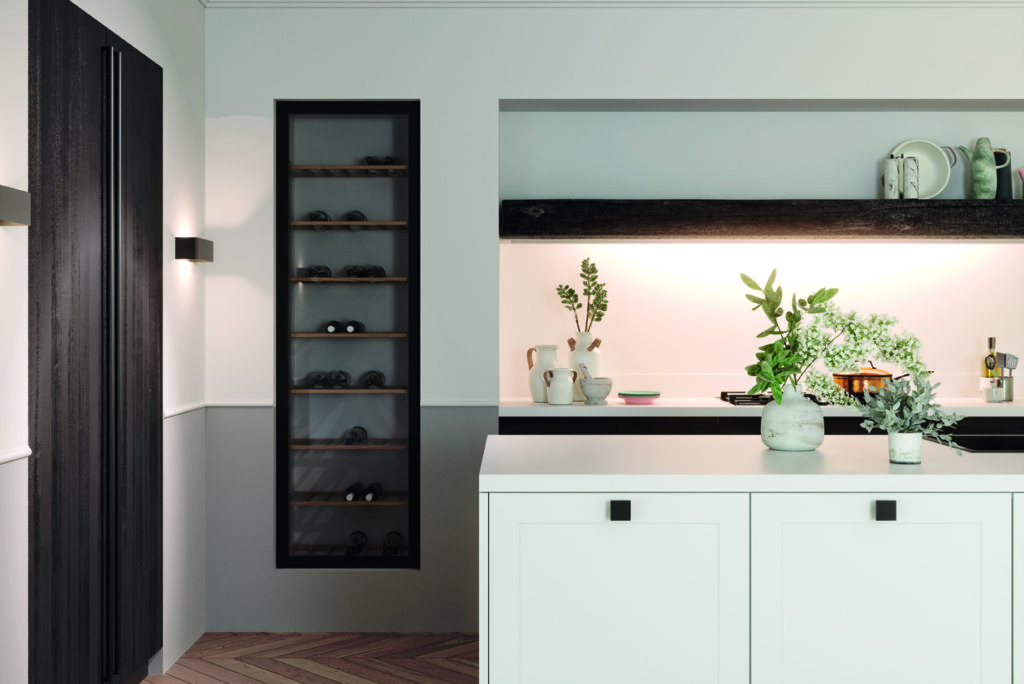 Oak Line, new addition to Wood Unlimited
Leading carbon-neutral manufacturer of quality German Kitchen furniture, Rotpunkt, present a new addition to the Wood Unlimited series with the launch of Oak Line: a new solid oak veneer door range with Black sandblasted finish.
Oak Line is a new door option made from real wood, which presents the raw textures of oak with original knots and irregular woodgrain. This modern open-plan kitchen concept includes a combination of the new Oak Line wooden doors in high-fashion Black finish set against the crisp nature of white. Formerly stainless steel, all integrated smart-ready light fittings and furniture components like hinges and runner systems are now available in Black: a new standard feature for the company in 2020.
The new Oak Line series is available in all painted colour options by Rotpunkt, as well as the Classic Line and Forest Line finishes. Giving homeowners the choice of three wooden door types, you can create a modern, sustainable kitchen environment in four easy steps:
1.            Choose door style: slab, in frame or new solid oak veneer door with integrated j-profile
2.            Choose door finish: pick a surface to suit your needs
3.            Choose profile milling: plain door or with vertical grooves
4.            Choose your favourite colour
Matt Phillips, Head of UK Operations at Rotpunkt says "Tactile finishes are big news in kitchen design and the latest research shows that homeowners want the look and feel of a real-wood kitchen without the overall weight and price implications, maintenance and environmental impact. Innovative solid wood veneers and replica laminate door solutions have become a great way to introduce authentic texture in the modern kitchen and Oak Line is a sustainable choice that embraces the markets love of dark interiors, which are rich in materials and character."
The new Black Oak Line doors are seen here emphasising an impressive arrangement of tall storage with full height, one-piece doors in the new 2340mm height. The black wood also helps to define the run of low level base units, which sit behind the stark white island unit and feature the brand new integrated j-profile, which is embedded within the door to offer handleless and discreet operation. The built-in wine storage is another new design element in 2020 and is perfect for storing and displaying red wine and mixers. Despite its lack of refrigeration, the custom wooden racks and choice of 20mm or 50mm wide frame glass door fronts will create a dedicated storage space that is extra special.
The new Oak Line kitchen concept (as pictured) features:
– You Oak Line: Black oak veneer tall units with extra-long 854 bar handle, black finish
– Memory Oak Line: Zero Black door with integrated j-profile, base units
– Mikron MX: White extreme matt lacquer island unit with Square 467 knob, black finish
– Wine Storage: available with wooden racks (no refrigeration), integrated lighting and option of 20mm or 50mm Black Frame Chimney glass door (50mm shown)
– Manila LED lighting*: underside of the canopy, black finish
– TopMatch Contrasts worktop: laminate solution, new colour 2499P Venice
– Splashback: Arabesque Grain (composite)
– Breakfast bar: not available from Rotpunkt
– Sink SP13 black flush-fitting & sink housing unit with hanging bin system and internal pan-drawer
– Drawer system: ZX1400 storage drawer system with internal wooden cutlery trays
– Priced from £12,500+vat, pictured kitchen concept
– Prices start from £2,000+vat, pictured wine storage (dependent on carcase height)
*All new transformers are smart-home ready to introduce automated lighting solutions, which can be controlled through virtual digital assistants like Alexa or Siri: by voice or remote control.
For further information on Rotpunkt UK, please email [email protected] or visit www.rotpunktuk.com & www.rotpunktkuechen.de