Next Generation Finish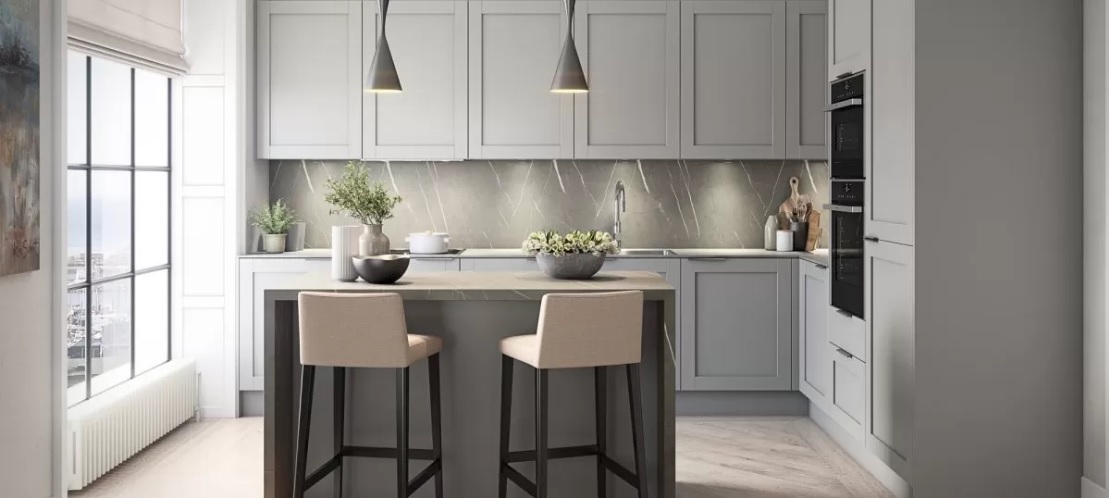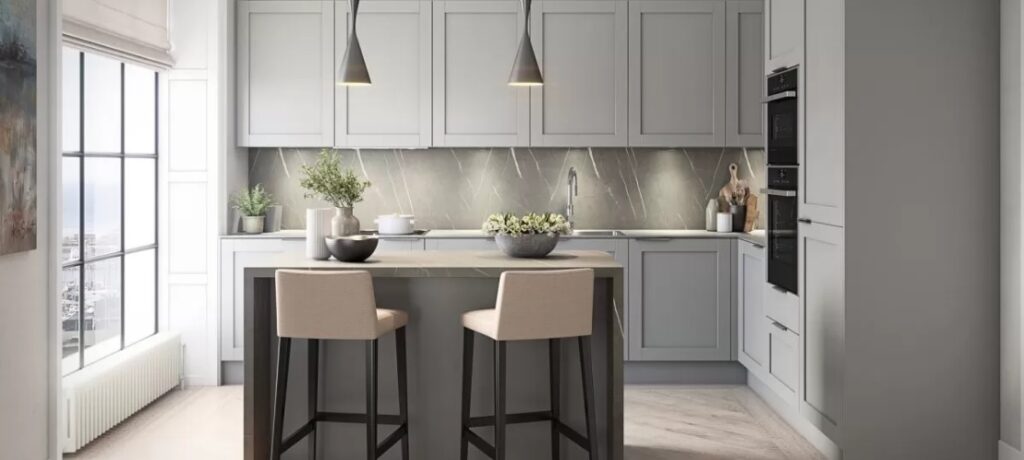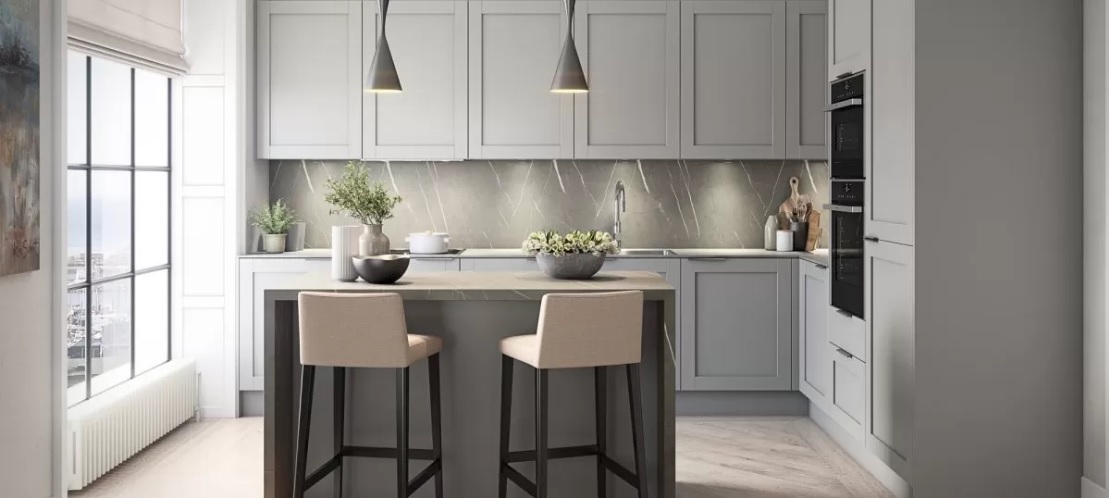 New Falmouth Dust Grey Kitchen by Daval
Award-winning British designer and manufacturer of quality fitted furniture, Daval, extend the lifespan of your kitchen with the introduction of Falmouth Dust Grey:
– A modern 5-piece Shaker-style furniture range in next generation, anti-scratch foil finish:
– Silky smooth surface using thermo healing technology with self-healing, restorative qualities
So what is thermal healing? Ideal in a busy, family kitchen, thermo-reversible healing means you can easily repair any superficial micro-scratches by using an iron and a damp cloth on the damaged area. The addition of heat will enable Falmouth to start the thermal healing process and as long as the scratch has not penetrated the surface, your kitchen furniture will rapidly and efficiently heal itself!
In addition to the high-tech Dust Grey finish, Falmouth takes the classic Shaker-style kitchen in a modern direction to provide an affordable design that is rich in detail. For example, each door within the new Falmouth Collection is designed with a smaller frame, deeper centre panel and five-piece jointed framework, which creates a contemporary aesthetic with clean, well-balanced lines.
NEW UPGRADE SERVICE → take advantage of the new Upgrade Service for lay-on kitchens, now available by Daval. Giving you the option to upgrade your furniture design to include a range of beautifully crafted dovetail drawers in either Oak or Walnut, this new service takes custom kitchen design to the next level. 
Simon Bodsworth, Managing Director at Daval Furniture says "As consumer demand grows for affordable kitchens with luxurious elements, Falmouth is an exciting variation on a much-loved kitchen style that can be tailored to the individual. By updating a classic design with the latest developments in kitchen surface treatments, we can extend the lifespan of your kitchen without compromising on style or quality."
"Innovation is fundamental to what we do and our new Falmouth range is built from sustainably sourced materials and precision engineered in our Yorkshire factory, where we combine the best of traditional joinery techniques with our industry-leading, production methods" says Simon. 
Falmouth is available in a range of contemporary colours to suit your home with a range of brand new foil options which are beautiful and hardwearing. The collection of foil finishes available include Dust Grey (as pictured), as well as Cashmere, Charcoal, Dove Grey, Porcelain, Portobello and Talpa. 
Streamlined and perfectly refined, Falmouth is shown here as an l-shaped kitchen concept with space efficient, full-height fitted furniture and a central island unit with seating for two. In character with its pared-back style, ultra slim dark grey marble defines the sink and preparation area and this is carried through to the worktops and island unit, which is designed with matching wrap-around end panels.
A full-height bank of appliances complete the run of cabinets and provide an ideal space for a twin set of ovens and perhaps, integrated fridge-freezer to ensure the hob and sink are designed close by. Ample storage is provided through a series of high and low-level cabinets, which come with a range of accessories and interior storage solutions to fully optimise your kitchen space.
Falmouth is designed with ergonomics in mind, including a mix of slim bar handles and push-to-release mechanisms for the doors and drawers. To finish the look, Daval recommend a mix of natural light alongside strategic task and mood lighting. In this case, the kitchen features discreet under-cabinet strip lights, which illuminates the worktop with targeted light so you can carrying out routine tasks. In complementary grey, a pair of conical-shaped pendent lights bring a touch of ambient light to the space, so that you can control both the mood and brightness of your kitchen space as and when required. 
The new Falmouth Kitchen Collection in Dust Grey is made-to-order and available now by Daval. Prices start from £10,000 +vat. For further information, please contact:
Daval | t 01484 848 500 │ e [email protected] | w daval-furniture.co.uk │ Address: Daval House, Spa Fields Industrial Estate, New Street, Slaithwaite, Huddersfield HD7 5BB