NEW: Old Split Oak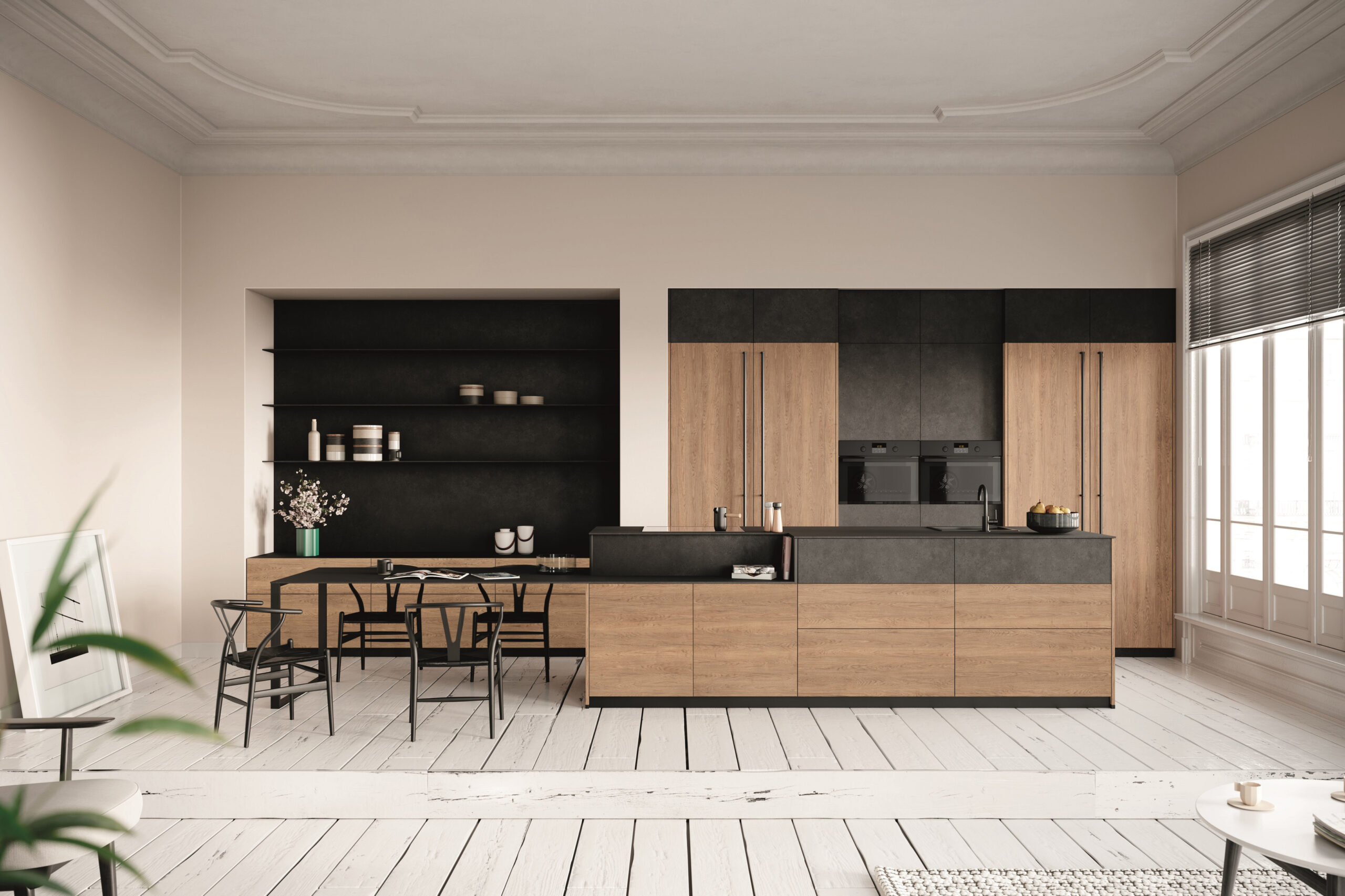 NEW: Old Split Oak by Rotpunkt
Rotpunkt, award-winning zero carbon manufacturer of German kitchen furniture captures the latest health and wellness trends with the launch of Old Split Oak: a new timber-effect door range, which is defined by its deep wood grain and rural texture.
Matt Phillips, Head of UK Operations at Rotpunkt says, "Wellness comes in many forms and in the home, we are finding that natural look materials and the social aspect of interior design are key to creating a feel-good kitchen environment where multiple people can work and play."
"Wood-effect furniture evokes a warm, organic feel and is a great way to introduce the calming attributes of the great outdoors whilst protecting the world's forests. And when designed in combination with a dining-style island unit and statement bi-colour design scheme, you'll be able to introduce new lifestyle elements in the kitchen that nurture your lifestyle and mind set" says Matt.
As trends continue to demand flexibility, this new hybrid kitchen concept by Rotpunkt combines the best elements of work and play – 2021 innovations include:
– NEW Old Split Oak: new door range that depicts this year's must-have timber effect, European oak. As kitchen designers interpret mixed materials in the home like never before, we are seeing a compelling interplay between matt black and rich wood finishes, which are helping to create a contemporary kitchen living space that is practical and sophisticated.
– NEW Bi-colour unit: unifying the kitchen island with opposing cabinetry just got easier with the latest bi-colour unit by Rotpunkt. The modern way for making contrast, this new two-tone design feature also extends to the back wall with a comprehensive wall system. Designed to free up design possibilities, you can zone working areas or even create shelving with style and purpose.
– NEW Gable end shoes: continuing on with the same theme as the furniture, you can now express yourself all the way down to the floor! The new gable end shoes as pictured, help to define and enhance the island unit by allowing you to coordinate with the main kitchen furniture to provide iconic style and utility. 
– NEW Black accessories: bring a co-ordinated, designer feel to the kitchen living with all-new black fixtures and fittings to complement modern multi-functional furniture and match integrated appliances. With full-height doors becoming increasingly popular, opt for the new extra long cast-iron bar handles for easy access, storage units with push-to-open mechanisms through to matching sinks, waste management systems and wall solutions, all in contemporary matt black. 
"We are constantly developing our kitchen ranges in line with changing lifestyle needs and always look to elevate our offering with practical details like double-height drawers, extra high islands and full-height units as standard, so we can bring you ergonomic, space-saving furniture for your kitchen that is sustainable, reliable and family-friendly. Every design is people and planet friendly" says Matt.
For further information, please contact Rotpunkt UK as per below via email [email protected] or you can visit www.rotpunktkuechen.de/en/