New Dust Grey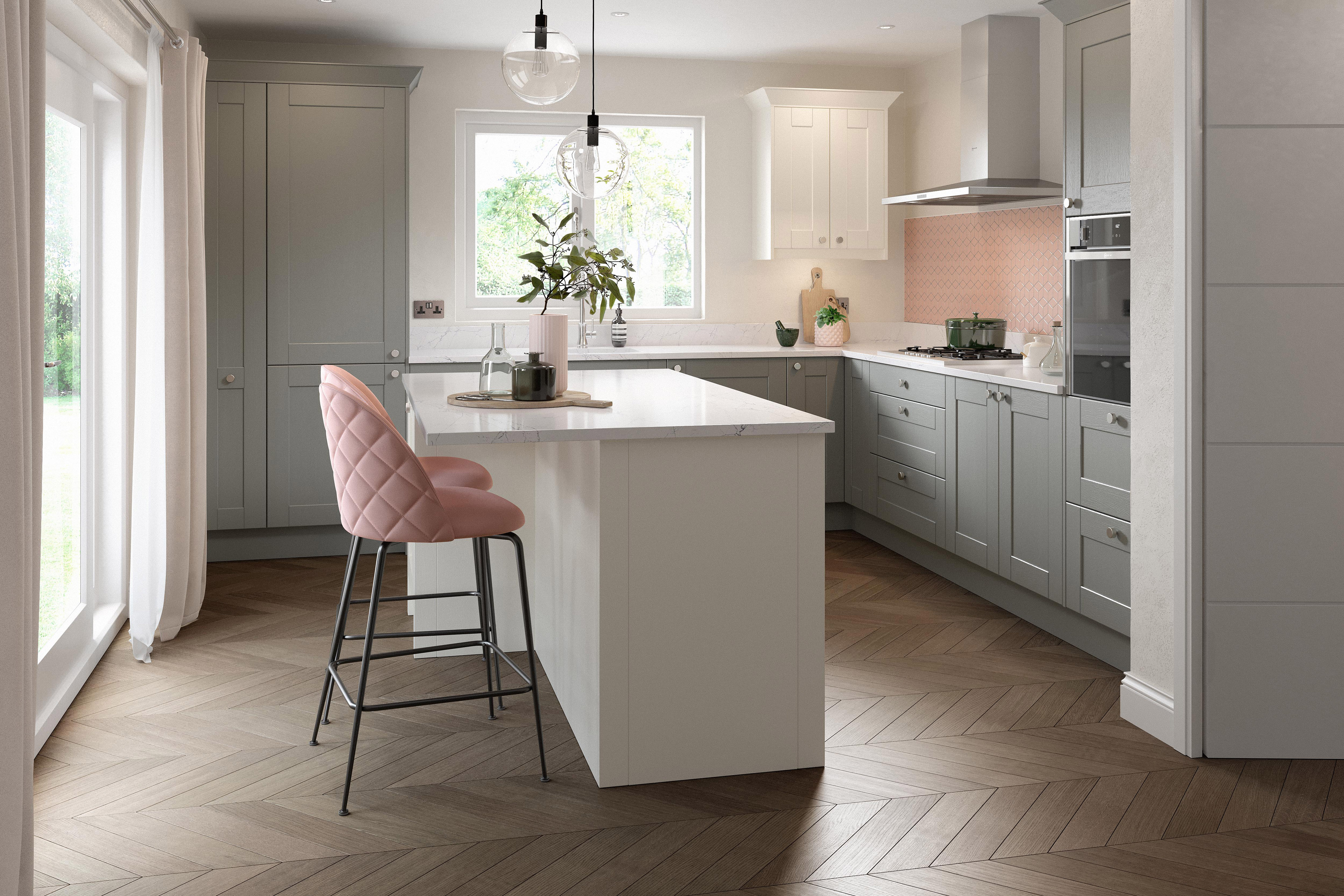 Meltham by Daval in NEW Dust Grey finish
Leading British designer and manufacturer of quality fitted furniture, Daval, brings a fresh approach to the country-style kitchen with Meltham, a 5-piece vinyl Shaker kitchen range now available in new Dust Grey finish. 
Affordable and practical, Meltham by Daval is a kitchen that gives you the opportunity to create your own interpretation of classic kitchen design through a newly extended range of five contemporary woodgrain finishes: new Dust Grey, plus Cashmere, Charcoal, Dove Grey and Porcelain.
"We understand that a kitchen needs to be beautiful inside and out, which is why our furniture is available made-to-order with a comprehensive range of interior storage solutions for everything from larder units, utility rooms and cleaning cupboards alike" says Simon Bodsworth, Managing Director at Daval Furniture.
"With blended spaces between kitchen and living areas on the rise, we can also extend our furniture throughout the ground floor so that you can have a designer, unified look and feel across areas for cooking, entertaining and relaxation, safe in the knowledge that all your home storage and style needs are comfortably met."
Inspired by the classic Shaker profile and designed with contemporary lifestyles in mind, Meltham has a slight chamfered detail on the inside of the door frame, which adds character while meeting the need for a simple, easy-to-clean kitchen. Its unique surface treatment is environmentally-friendly and offers a high grade colour and texture that is smooth and extremely malleable. 
Meltham is a superb example of a contemporary-classic style with subtle details like its simple round handles and generous pan drawers, and the latest new Dust Grey finish seen pictured left adds sophistication and a dose of high fashion mid tone grey. In fact, choosing cabinets in different colours is a great way to zone and personalise your kitchen space, against a soft, neutral backdrop in keeping with this year's trend for stripped-back rustic décor like the Meltham Charcoal and Dove Grey kitchen concept also pictured. The addition of vintage-style glass-fronted top units help to create a homely feel so that your new Meltham kitchen feels like it has always been part of your home.  
For added assurance, every kitchen by Daval Furniture is guaranteed for five years, as standard. And as a bonus, you can make the Meltham even more special with a new service which is exclusive to lay-on kitchens by Daval, so you can upgrade your new kitchen to include a range of beautifully crafted dovetail drawers in either Oak or Walnut, for an extra touch of traditional charm.
Precision engineered in Britain and built from sustainably sourced timber, the new Meltham Kitchen Collection by Daval is available in standard door sizes for increased affordability. To give a bespoke element to your design, Meltham internal units can be custom configured on request.
For further information on Daval, its furniture and interiors storage solutions, please contact:
Daval Furniture │ t 01484 848500 │ www.daval-furniture.co.uk │ Daval House,
Spa Fields Industrial Estate, New Street, Slaithwaite, Huddersfield, HD7 5BB