New Coal Black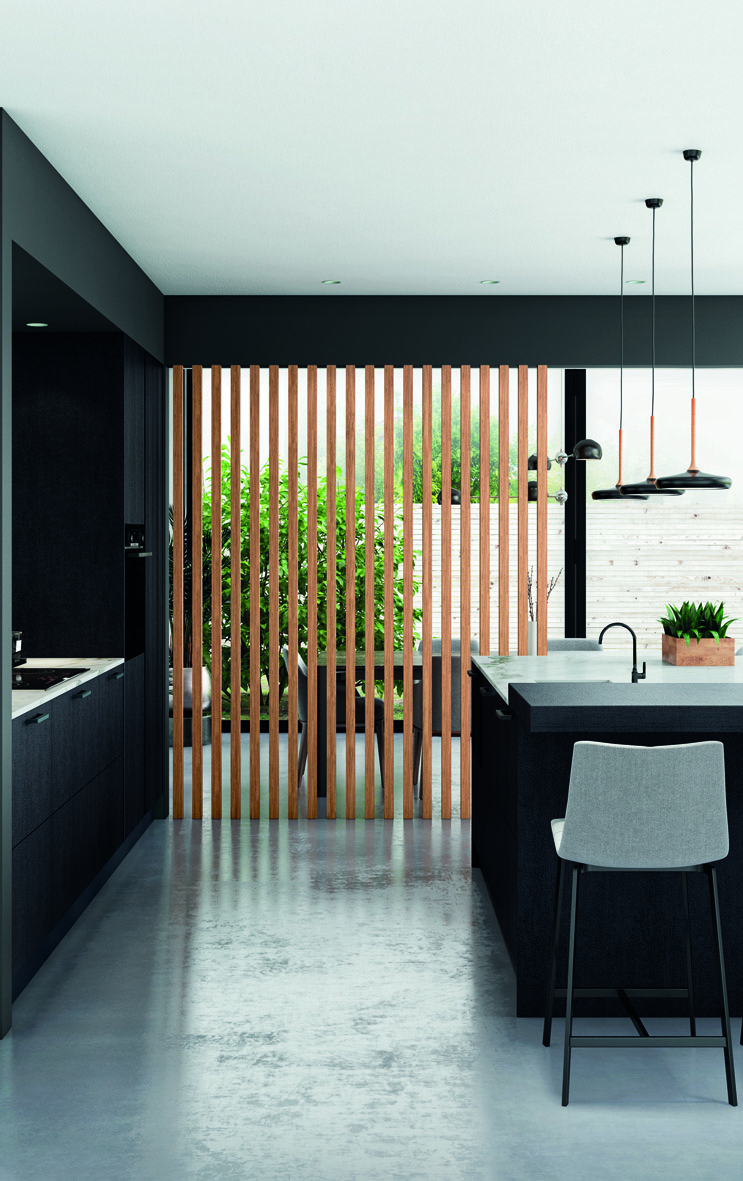 New Coal Black Burned Wood by Rotpunkt
Rotpunkt, award-winning carbon-neutral manufacturer of quality German kitchen furniture master the dark arts with the launch of its new Coal Black Burned Wood ZERO finish: a real wood door front with jet-black patina, which is characterized by its rich texture, dark striations and high-quality material. 
Matt Phillips, Head of UK Operations at Rotpunkt says, "The contemporary kitchen is characterized by simplicity in 2021, with the essence of nature being introduced to create feelings of calm and contemplation. High-quality, solid wood finishes are providing a great foundation for the hybrid kitchen, which needs to cater to a range of disciplines and users this year. Our new real burned wood door in Coal Black finish has been designed to withstand more contemporary lifestyles, which are increasingly home-centred and require liveable durability."
"If you want to firmly anchor your kitchen scheme in an open-plan environment, think about combining different raw materials like wood, stone and metal as this will create an alternative take on the timeless black and grey colour palette, and provide a hardwearing, sustainably sourced foundation that is rich in contrast and ergonomically designed. Quality of life is becoming a point for discussion too recently and flexible storage solutions like dedicated
wine storage, raised breakfast bars and complementary room dividers are bringing new and dynamic 'built-in' elements to the kitchen, which maximise utility and help to define individual style identities with little effort" says Matt.
This new kitchen concept offers a series of user-friendly innovations by Rotpunkt, which include:
NEW Coal Black Burned Wood ZERO door: rich textural finishes inspired by nature are key to creating a unique look in the home this year, with authentic timber finishes and real wood furniture receiving a modern, urban-style update. The new Burned Wood door is available in Coal Black finish, which modernises its rustic facade whilst creating a more lifestyle look and feel.
NEW Bow Cast iron handles: nodding to Europe's industrial heritage, cast iron is renowned for its strength and resistance to corrosion, making it the perfect choice for the hardworking kitchen handle. The new cast iron handle is sleek and designed in a high fashion black finish that helps define the kitchen furniture and enhance both form and function of the space. 
NEW Wine built-in rack: offering a seamless design solution to store wine and bottled drinks, this new glass-fronted wine cabinet is specially designed to become an integral part of your kitchen furniture. Despite its lack of refrigeration, the custom internal shelves can be arranged as you need them with a choice of 20mm or 50mm wide frame glass door fronts, which are available in five finish options and help create a dedicated storage space that is practical and in-keeping with the rest of the kitchen. 

"We understand that a kitchen needs to adapt to your needs, as well as support a healthy and productive work-life balance, which is why we continue to evolve our range of furniture solutions year on year and strive for the best-in choice, innovations and sustainable manufacture" says Matt.
For further information, please contact Rotpunkt UK via email [email protected] or you can visit www.rotpunktkuechen.de/en/
Rotpunkt started several years ago to act sustainably and produce kitchens with a future. Its greenline BioBoard uses a resource-saving chipboard, which saves up to 50 football pitches of forestland per year. In 2020, the company reaches a new milestone with the introduction of greenline BioBoard Gen2, using chipboard that consists of up to 90% recycled wood. This enables Rotpunkt to save even more trees than before and in doing so, it fulfils the F**** standard = lowest possible formaldehyde emission = even better indoor climate! The new greenline BioBoard Gen2 is the sustainable, green and environmentally friendly alternative to traditional chipboards – without sacrificing on quality. As of 1st January 2020, the manufacture of all Rotpunkt kitchens is 100% carbon neutral from its production sites in Germany.