Gira by INTALITE UK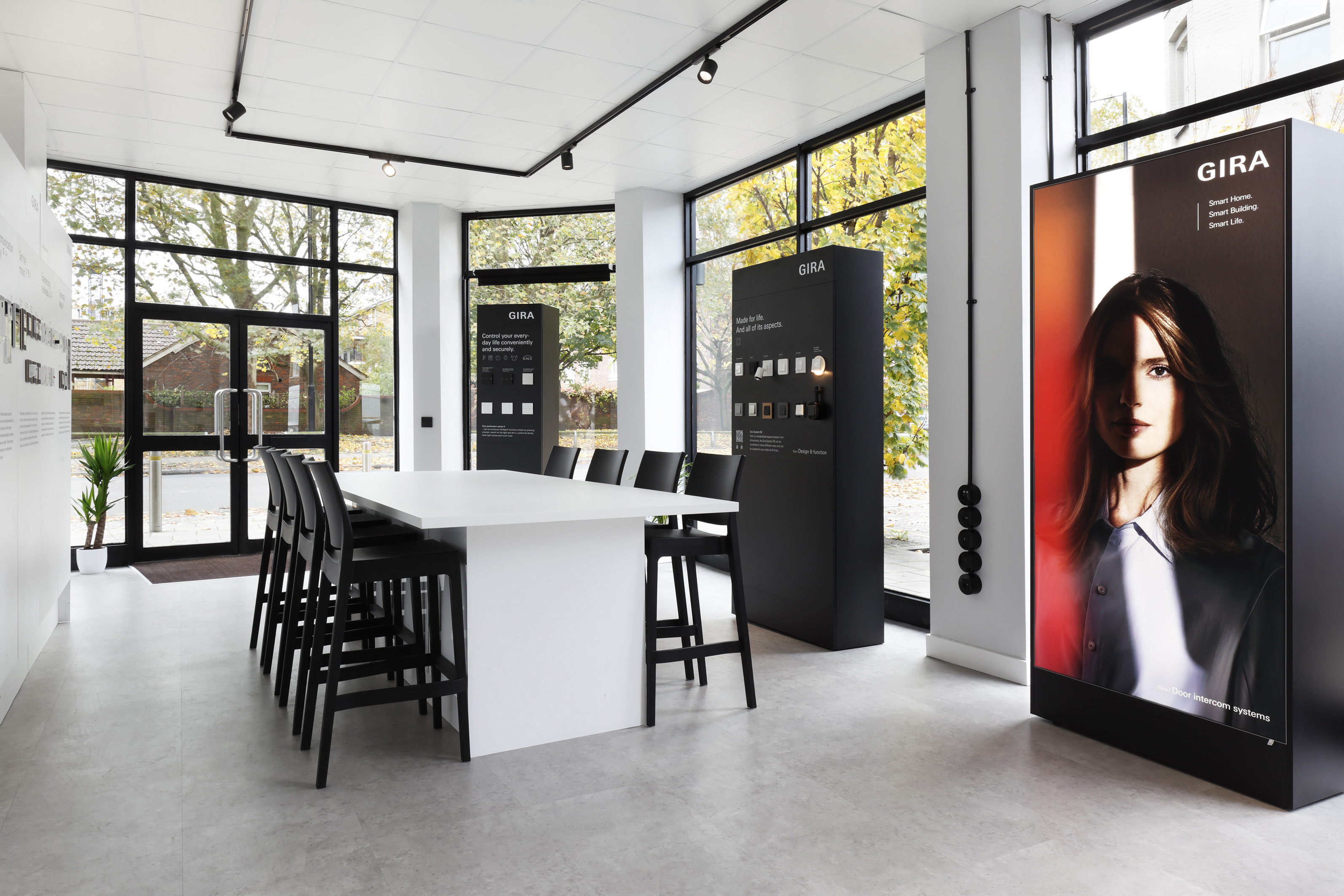 Gira by INTALITE UK new London studio
One of the world's leading full-range suppliers of intelligent system solutions, Gira, respond to rising consumer demand for the smart home, by opening a new dedicated showroom this November 2020 in partnership with its latest nationwide distributor INTALITE UK.
Following an international rebrand and extensive business development, Gira anticipates growing interest in the latest smart home technology and is pleased to work in collaboration to open the new Gira by INTALITE UK showroom on Merton High Street in South Wimbledon, London.
Opened last week, it is well-positioned in the heart of London and under a 5 minute walk from South Wimbledon Underground station. Convenient for the A24 to Surrey and Sussex with parking available, this high street showroom offers a display of intelligent lighting, heating, cooling and smart home solutions by Gira.
With experts on hand to guide retail and commercial customers through the new possibilities of an intuitive building, this beautifully designed Gira by INTALITE showroom will cater for system integrators, architects, property developers and homeowners. Created to serve both commercial and retail customers, the showroom combines interactive light boxes with conversation starting displays, so that consumers can get a better understanding of the features and benefits of intelligent homes: including climate, light and blind control alongside award-winning Gira Design Lines for switches and sockets. 
Members of the public are very welcome to enjoy a special appointment-only visit following the opening of the Gira by INTALITE Showroom, 146 Merton High St, South Wimbledon, London SW19 1AZ (South Wimbledon Underground is within five minutes' walk).
Gira will do its utmost to accommodate your needs during the latest national lockdown measures, with the showroom and all Gira representatives following strict COVID-19 health and safety protocols. This 4-week lockdown temporarily prevents any in-store visits from taking place but until it's safe to do so, the company is arranging video call consultations with an expert.
Providing an exclusive opportunity to safely immerse yourself in the virtues of setting-up a Smart Home from the comfort of home, why not Book your personal online consultation with Gira by INTALITE UK today: www.gira.com/uk-showroom
Mark Booth, Managing Director at Gira UK says "I am delighted that we can work hand-in-hand with INTALITE to show our extensive range of products designed to enhance every aspect of modern life. We are very proud of our design-led, innovative approach at Gira, which means we are always finding new ways to serve our customers and better support their evolving needs. We anticipate an increasing blend of solutions to facilitate work and leisure, as working from home continues for the foreseeable future and look forward to welcoming visitors to our new Gira by INTALITE showroom virtually or in person, with stringent health and safety measures in place for added peace of mind."
John Keenan, Managing Director, INTALITE UK says "We are really excited to partner with Gira and show our customers how smart home technology is becoming a driving force behind contemporary lighting design. Now more than ever, we need to ensure we're able to quickly respond to new areas of desirability with market leading product differentiators and technological edge."
If you would like to make an appointment to visit the new Gira by INTALITE UK Showroom, please contact Gira UK:
Call  0203 9368090 │ visit www.gira.com / www.gira.com/uk-showroom │ email [email protected] 
New Showroom: 146 Merton High St, South Wimbledon, London SW19 1AZ