Food for thought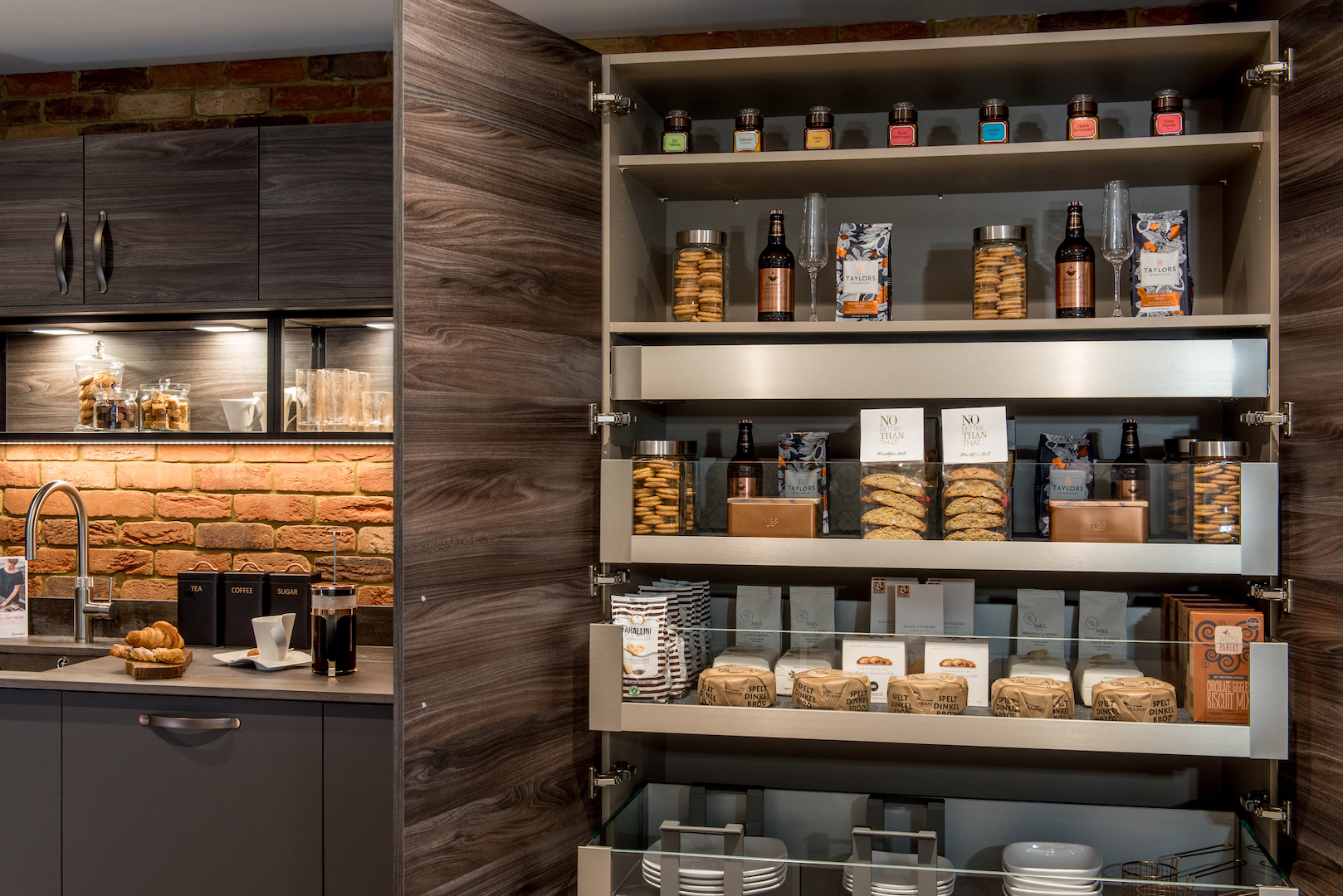 2021 Bedroom Trends with Daval Furniture
Daval, award-winning British designer and manufacturer of quality fitted furniture is reporting a resurgence of pantry-style furniture solutions and dedicated larder storage, as the nation embraces a newfound love for home-made bread and pasta, coupled with preserving and pickling following new pressures on long-life food products during lockdown.
Research from global consultancy firm, Bain & Co, confirms that over half of UK residents have been experimenting at home by using extra ingredients in their cooking more often since the measures to stay at home. Cooking at home more has therefore become a long-term lifestyle trend with more than a fifth of UK residents saying they expect to be cooking more in their own kitchens over the next 12-18 months. Statistics report the UK is actually experiencing the greatest uptake for home-cooking when compared to countries like Germany and Sweden, and this has definitely changed how the modern-day kitchen is being used and also designed.
Simon Bodsworth, Managing Director at Daval Furniture says, "A number of key trends are hitting the mainstream since nearly 1 billion people were confined to their homes worldwide and I believe that this time together has created a new desire for healthier lifestyles that promote good nutrition and extend the shelf life of our food. There is something profoundly satisfying about artisan cooking and with the continued growth in dedicated food storage in the kitchen, we need to think about hygienic surfaces and the components hidden from view like integrated racks, carousels, shelves and baskets, through to deep base drawers with cutlery organisers, space for cook ware and even, pull-out recycling bins."
The kitchen has become the cornerstone of the modern home, so optimizing how the space can adapt with your lifestyle is key to creating a supportive kitchen environment that also includes ample storage and worktop space for batch-cooking and inevitable overspill of family life.
Daval offers a range of modern Shaker, traditional country and urban-inspired furniture that can be custom made to suit your needs. If you love making bread and pasta consider a butler's pantry with built-in worktop. Not only will the stone surface offer a cold, smooth surface to roll out dough, it will also keep the main kitchen surfaces free from mess and clutter. Alternatively, go big with a tall larder unit with deep pull-out drawers that is designed to organise your pots and pans, kitchen utensils as well as store your favourite oils, preserves and dry food. Or perhaps you would benefit from a custom-made food store equipped with integrated knife blocks, spice holders, stainless steel jars and dividing systems – the choice is yours with prices starting from £3,000 including vat.
Simon says "Make sure you discuss your favourite recipes and preferred cooking style with your kitchen designer to ensure your future kitchen is fit for purpose. By establishing a clear vision of how you cook and eat every day, it will offer a better understanding of your lifestyle and design needs and therefore, ensure that every design choice is relevant and valuable to you. So whether you're a fan of using the hob or live to bake, your larder storage can now reflect this."
As well as being practical and durable, Daval's beautiful British-made furniture is made from renewable timber, sourced from sustainable resources like the Kielder Forest in Northumberland, which is recognised as Northern Europe's largest man-made forest.
Every piece of kitchen furniture is built from sustainable raw materials, precision engineered in the UK and available with a five-year guarantee as standard for added peace of mind. Watch this space for the new 2021 Collection by Daval Furniture coming soon…
Images show Farnley Day Pantry in Putty finish, Bramham Butler's Pantry in Navy Blue and Mayfair Charcoal/Varenna Tobacco Elm Larder

For further information please contact: Daval Furniture │ t 01484 848500 │
www.daval-furniture.co.uk

Daval House, Spa Fields Industrial Estate, New Street, Slaithwaite, Huddersfield, HD7 5BB