Etoile Basin Stands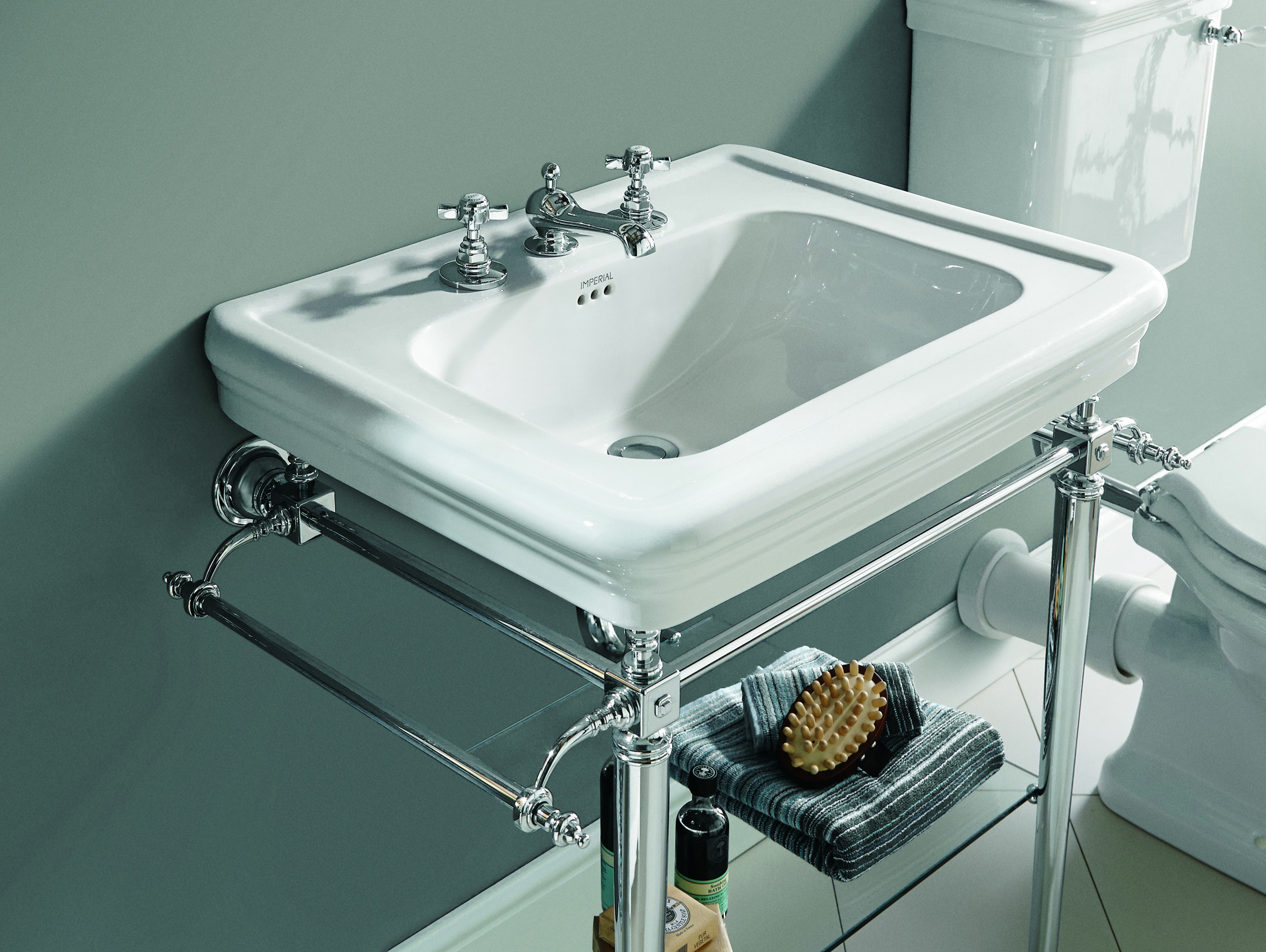 Etoile Basin Stands by Imperial Bathrooms
Specialists in the design and manufacture of classic and contemporary British-made bathroom solutions, Imperial Bathrooms tap into several key design trends for the bathroom with its enduringly popular Etoile Basin Stands.
"We're noticing that homeowners are becoming increasingly daring when designing their bathroom interiors and this has welcomed a much bolder look," says James Stevenson, Creative Director, Imperial Bathrooms. "It's becoming more and more popular to choose a lustrous metallic finish like antique gold or polished chrome, which will add a layer of visual interest and extra touch of glamour to any bathroom. Thanks to the popularity of social media platforms like Instagram and Pinterest, our customers are becoming far more design savvy and sophisticated in their tastes than ever before. In this way, if you're able to create a coordinated look across your entire bathroom scheme using complementary finishes that match your brassware, shower controls and accessories, you will ensure a timeless look that is well-balanced and personal to you."
A principal design feature of the Etoile Basin Stands by Imperial Bathrooms are the traditional double towel rails located either side of the central basin. Available in two distinct Etoile styles – Hardwick and Vergennes – the Etoile Basin Stands are inspired by the Victorian era, finely handcrafted with ornate period detailing and traditionally shaped ceramic ware, which is moulded from clay to present a flawlessly smooth surface beneath layer upon layer of Imperial Bathrooms specialist glaze.
The Etoile Hardwick Basin Stand with glass legs, is designed to co-ordinate with the Etoile medium 605mm ceramic basin, whereas Etoile Vergennes is designed for the large 700mm basin with brass legs, seen pictured in Polished Nickel. The elegant proportions of each basin stand are well placed in a smaller setting like an en-suite bathroom, cloakroom or compact wetroom. That said, both models of basin stand will elevate a much larger bathroom environment like an expansive 'his & hers' arrangement, which features a pair of Etoile basin stands side-by-side. The open frames and slender profiles of Etoile will create a deluxe focal point in any bathroom, without overwhelming its statement finish, traditional craftsmanship and rich art nouveau styling.
"The size of a typical bathroom is shrinking in tandem with the size of the average UK home, so smaller-scale products that can enhance a space effectively in both an aesthetic and practical sense, are in high demand. Equally, a guaranteed way to increase the value of your property is to consider an extra bijou bathroom or cloakroom, and that's where the Etoile basin stand can really come into its own" says James.
The Etoile Vergennes Basin Stand features a practical lower glass shelf for added storage and dedicated place for you to store extra towels or some of your favourite beauty products. In keeping with the current trend for luxurious metallic finishes in the bathroom, each Etoile Basin Stand can be finished in a choice of Chrome, Antique Gold or Polished Nickel and for greater emphasis, Imperial Bathrooms recommend introducing the same finish across your fixtures and fittings so your basin stand coordinates with your basin taps, heating solution and essential bathroom hardware.
The Etoile Collection of Basin Stands are available with a range of black or white basin options that can be combined for dramatic effect, along with a selection of real wood veneered wall-hung furniture if you're looking for a more contemporary bathroom scheme. The Etoile Hardwick Medium Basin Stand measures H865 x W720 x D450mm and the larger Etoile Vergennes Basin Stand is H870 x W820 x D520mm. Available from Imperial Bathrooms, prices for the Etoile Basin Stand Collection starts from £1,025 with the Etoile Basin in White priced from £420 and Traditional Chrome 'P' trap starting at £55: all prices include vat.
For further product information and design advice from Imperial Bathrooms, please contact:
Tel 0870 606 1623 | Web www.imperialbathrooms.com | Address – Imperial Bathrooms: Unit 1-7, Empire Industrial Estate, Brickyard Road, Aldridge, West Midlands WS9 8UD