Bespoke Stone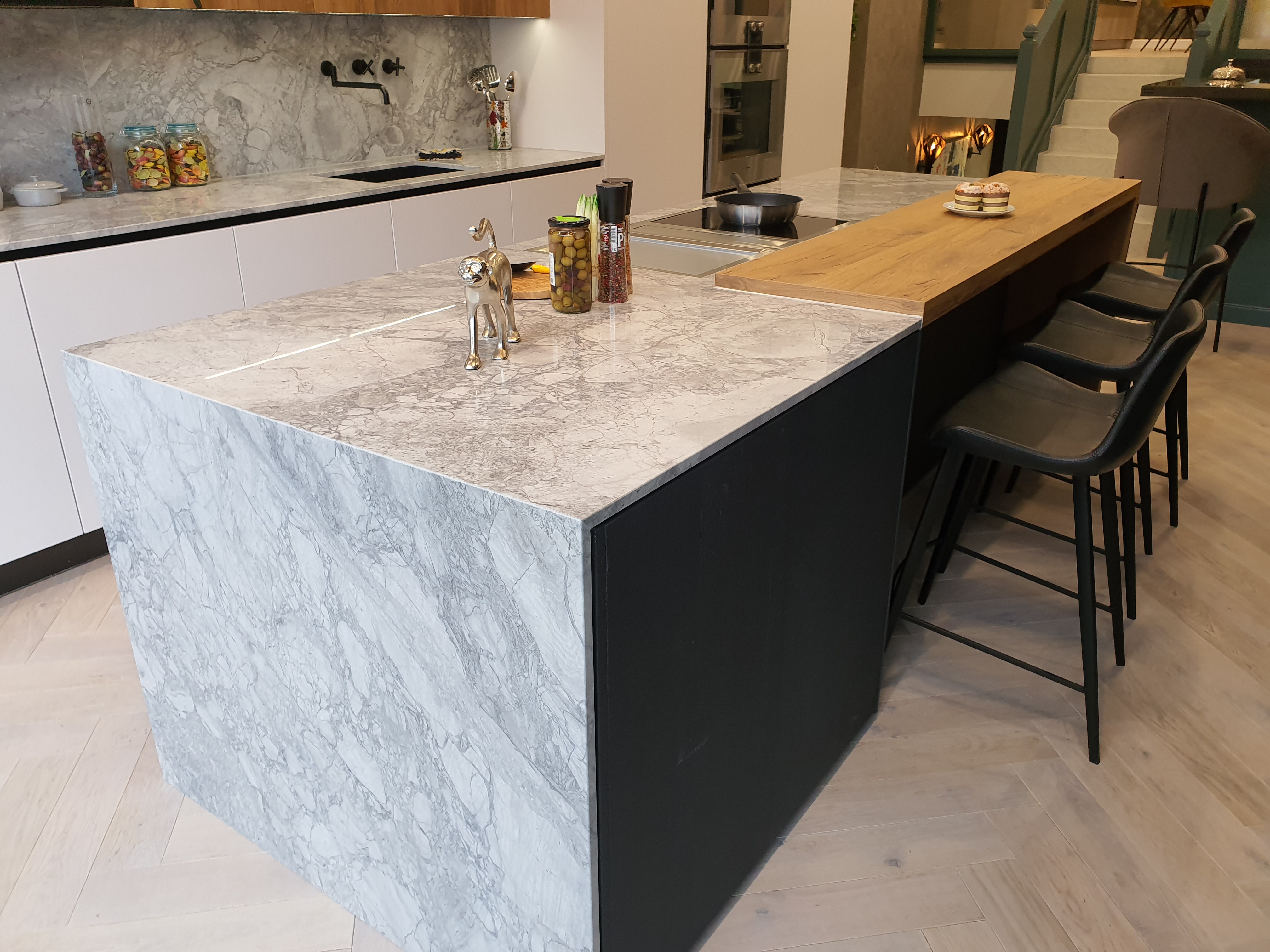 Custom Stone Fabrication by Brandt Design
Brandt Design, leading retail interior design specialist is dedicated to the creation of custom-made lifestyle interiors and thanks to its exclusive Stone Fabrication Service, customers can incorporate the natural, raw elements of stone in a Brandt kitchen without needing to enlist a third party worktop supplier. 
In fact, when you consider the different types of kitchen surfaces available – be it furniture or worktop – the latest technological developments have created a wealth of options which of late, are driven by personal preference over mainstream ideas. 
Stone Fabrication by Brandt Design: 
Brandt Design also offers bespoke stone fabrication with surface solutions in Granite, Quartz, Marble and other man-made products. Providing an exacting service that covers every aspect of stone design and installation, the Brandt Design team will explore and recommend a range of materials to suit your design concept and when selected, it will then create a design template for manufacture and installation: subject to agreement. From concept through to completion, the design team at Brandt Design remain in constant contact, to ensure your bespoke specification request is fully realised. In addition to importing its own unique range of Quartz and Granite, The Brandt Collection also supplies material and finish options from all leading worktop brands like Cosentino, Silestone, Dekton, Caesarstone and Spekva: for further information, please visit www.brandtdesign.co.uk/worktops 
Julia Steadman, Head of Operations at Brandt Design says "As worktop space has increased its role in the kitchen, different raw materials like quartz and granite are able to accommodate unique design features and offer food safety properties: ideal for sanitary environments. For example, a quartz worktop provides a dense composition that prevents bacteria building up and transferring onto other surfaces. Additionally, these types of work surface exhibit non-porous properties, meaning they are very easy to maintain and most importantly, create the ideal foundation for healthy food preparation. It therefore makes sense to choose materials that are fit for purpose and can withstand a high-traffic, family friendly kitchen space, where each surface is perfectly tailored to individual form and function." 
At the premium end of the market, Granite is regarded as the most universal material option and offers a highly versatile product that is suitable for use in any kitchen environment. It is 100% natural and each slab is individual, available in a large range of colours and styles with different thickness and edge variables. Durable and long lasting, you can opt for either a polished surface with high shine finish emphasising the natural crystals or a honed finish, where the stone is buffed to create a smoother, low sheen surface. When compared to Marble, which is softer and more sensitive, Granite is less susceptible to everyday wear and tear: ideal for a family-friendly kitchen scheme. 
In contrast to the rich qualities of stone, hyper-realistic materials have become a great way to keep costs down but still achieve a customised design that replicates the look and feel of natural materials. For instance, quartzite is an engineered worktop solution that uses resin as part of the manufacturing process, where loose quartz makes up about 93% of the material. Julia continues "Creating a new appetite for sustainable worktop alternatives, new material options have broadened the scope for modern kitchen design, where unique surface effects are making their mark across bespoke wall panels, island units, bar-style seating, splashbacks and more. Lightweight and eco-friendly, synthetic worktops are durable, easy to fit and offer a high capacity for personalisation. However, laminates do lack the character and tactile quality of real stone, so it is worth considering a blend of both and not limit yourself to just one cabinet colour and one worktop." 
Scott Davis, Director at Brandt Design adds "A successful kitchen design requires rigorous attention to detail across the furniture and worktops, which is why we take care of every aspect of your project – from first blueprint to final sign off – so we can create a portfolio of custom turnkey projects for each and every customer." 
For further information on Brandt Design, please contact Brandt Design: 

Hatch End 0203 7584455 | Hampstead 0208 1947888 │ 

www.brandtdesign.co.uk

│ 

info@brandtkitchens.co.uk