ADVICE | Kitchen Living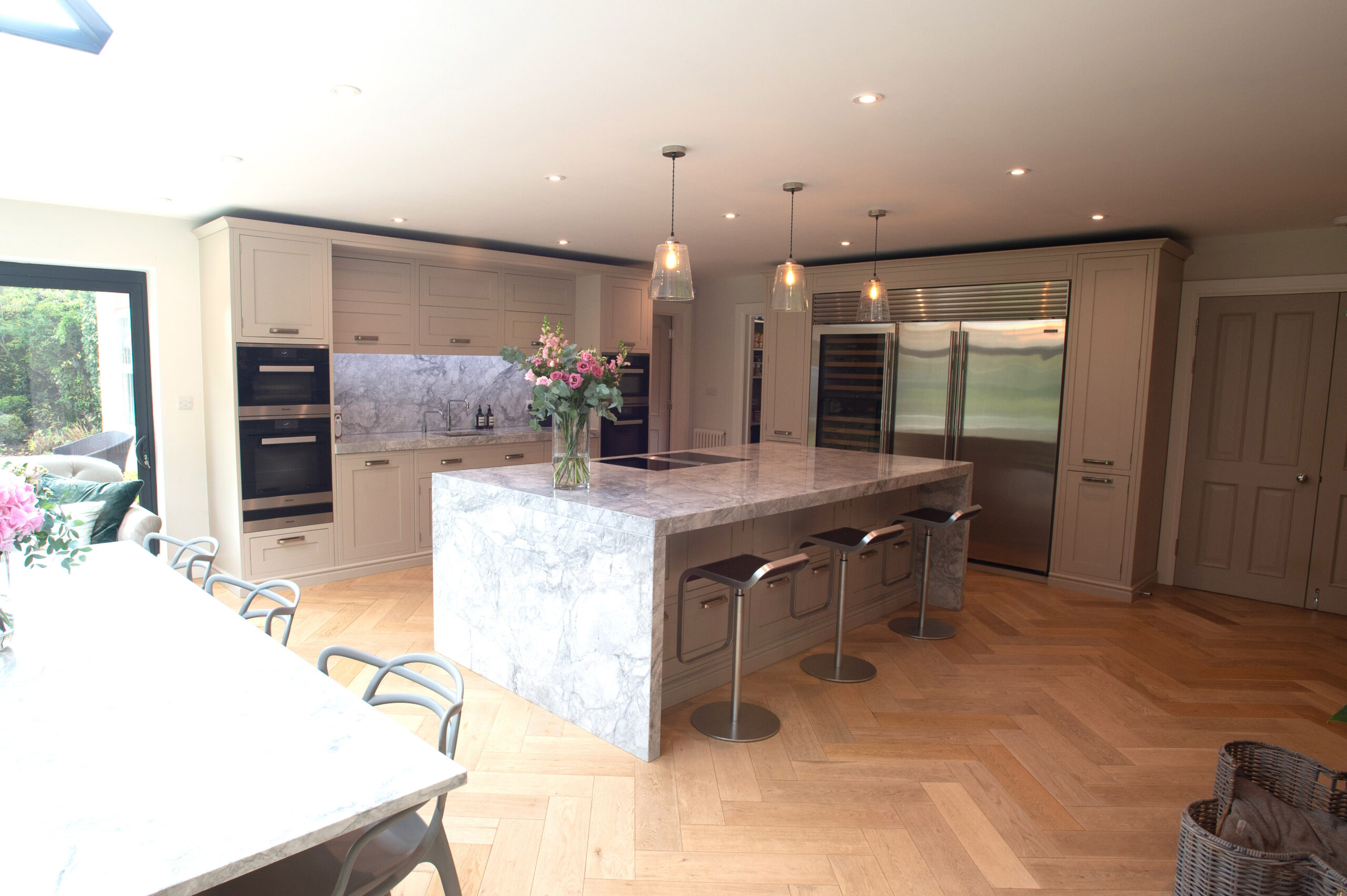 Kitchen Living: design tips by Brandt Design
Specialists in the design and installation of residential and commercial lifestyle interiors, Brandt Design, offer you some practical advice on the most popular open-plan kitchen designs today…
"With so much scope for personalisation and design freedom, the open plan kitchen has come of age in 2021, with 'kitchen living' very much in-vogue this year. Creating a flexible and dynamic space for the family to enjoy together with dedicated areas for cooking, dining and relaxing has become increasingly important in light of the pandemic and we have all had to respond to the Covid-19 pandemic with new pressures like working from home and home schooling" says Julia Steadman, Head of Operations at Brandt Design.
Establishing what 'kitchen living' means to you in terms of the interplay between cooking, dining and social spaces is vital so that you can work with the proportions of your space and decide if an island unit or dining area is required. Julia finds that being honest about your preferences, leisure activities and cooking style can help you find your perfect match and has put together a short list of three popular kitchen layouts chosen by Brandt Design customers to fire up your imagination and help you to visualize the possibilities:
Island design: custom made arrangement of kitchen furniture in a rectangular formation with ample worktops for food prep, drawers and cupboards for storage and space for integrated appliances. Dining areas can be included so that you can sit and chat at the island, if required with plenty of room on the working side of the island so two can cook comfortably together.
Open plan:  a Shaker-style kitchen in a bold contemporary blue connects a contrasting island unit for dining and entertaining with the living area a few steps away for relaxation. Easy living is a given thanks to dedicated bespoke storage and a walk-in larder and utility room,
Peninsula style: clever space planning ensures a dedicated u-shaped kitchen with bar-style seating on the outside and appliances and cabinets on the inside. Ideal for making the most of natural daylight from a garden room.
Kitchen living is a very personal choice so it makes sense to establish your priorities before contacting a kitchen designer so that you can gather some ideas and even potentially create a moodboard of ideas to discuss in person or virtually. The team at Brandt Design like to know what matters to you as a person as well as cook or host when creating your kitchen and invite you to consider the following questions? How often do you cook from scratch? How many people do you usually make meals for? Do you like to cook with other people or prefer to get on with food prep by yourself? Have you got young children or older relatives you need to consider and keep an eye on? How much storage do you need in your kitchen and what interior style do you prefer? "As soon as we have built up a picture of who you are and what matters to you in the kitchen, we can move to the next stage of creating the perfect blended kitchen and living space to suit you and your family," says Julia.
Go large – A kitchen island unit can be a welcome addition to a ground floor which is open and flexible to accommodate a busy and sociable household. Keep on top of storage by installing floor-to-ceiling tall units to frame built-in fridge freezers so there's room for everything. Choosing bespoke kitchen furniture ensures that you can colour match it to other elements in your ground floor scheme so that the whole kitchen living area has a cohesive feel and flows nicely. Consider all aspects of kitchen lighting from skylights to bring plenty of daylight in all year around to well-placed spotlights and pendant lighting so that you can create the perfect ambience with ease.  
Easy living – If you're a sociable cook then seating for your guests is bound to be at the top of your wishlist so that you can enjoy their company while you crack on with the meal. Having an open environment with clear sight lines means that you can enjoy a conversation and others can also lend a hand with food prep. An induction hob ensures safety first in a busy family kitchen complete with a concealed extractor, and a mixture of deep drawers and top units increases storage options without encroaching on social space.
Comfort first – A linear open-plan kitchen can complement a new extension and effortlessly bring entertainment to the kitchen with custom media units and integrated digital screens. A functional and aesthetically pleasing run of units can easily blend into a living room depending on your style and I would certainly recommend you budget for a high-performance extractor fan to combat any cooking smells. There are some very quiet models available on the market and your kitchen designer will be able to calculate exactly which ones are best suited to for the size of your room, so that you can keep it well ventilated. Remember that every detail counts in a kitchen living room so make sure that you consider how the look and feel of your kitchen brassware and appliances will work with the rest of your décor.
For further information on Brandt Design, please contact:
Brandt Design │ website www.brandtdesign.co.uk │ email [email protected]
Hatch End: 431 The Broadway, Uxbridge Rd, Pinner, Herts HA5 4JR | t 0203 758 4455
Hampstead: 489, Finchley Road, West Hampstead, London NW3 6HS | t 0208 194 7888
Stevenage: Oxleys Rd, Stevenage, Hertfordshire SG2 9YE | t 0143 872 9062